Family Tour Package #1 –  Itinerary
Day 1
The guests will be received at Orange Roots between 10 am to 12 noon by Guide arranged by the Resort.
The guests will be given a Welcome Drink at Orange Roots, can refresh themselves, use the washrooms then proceed for sight seeing tour of Cherrapunjee Viewpoints.
If it is time for Lunch, they can have Lunch at Orange Roots before starting.
Else they can visit Arwah Cave, Nohkalikai Falls, Ramakrishna Mission Museum and then come for Lunch at Orange Roots.
Post Lunch they can visit Dainthlen Waterfalls, Eco Park, Mawsmai Cave, Nohsngithiang Waterfalls, Thangkharang Park and Khoh Ramhah.
Proceed to the Resort. Check in.
Evening Tea Snacks. Evening Music Program, Buffet Dinner.
Retire for the day.
Day 2
Trek to DDRB. Time required 5 hours. Leave the Resort for the trek by 08:30 am.
Drive to Lumsohphie the head of the steps leading to Double Decker Root Bridge at Nongriat.
Packed Lunch from the Resort.
Enjoy a bath in the waterfalls beside the DDRB or a swim in the Natural Swimming Pools in the winter season only when the current is not strong and if good at swimming.
Those who wish to proceed to Rainbow Falls to proceed further. They need to have another 3 hours to go to Rainbow Waterfalls and back.
Return to Resort.
Evening Tea Snacks. Evening Music Program, Buffet Dinner.
Retire for the day.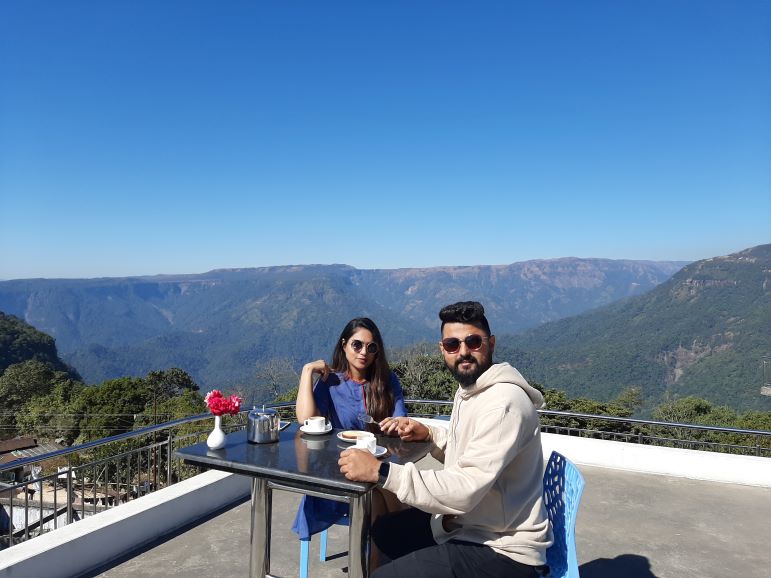 Day 3
Relaxed morning at the Resort.
Morning Walk of an hour through the village or close to the Resort along valley view Road.
Go for a bath in a spring after Breakfast during the monsoon season.
Check Out by 12 noon.
If in case, it is not feasible for the Guest to reach Orange Roots by Noon on Day 1, they can drive down to the Resort and keep the Sight Seeing Tour of Cherrapunjee for Day 3. However, this should be decided at least a day in advance, because Tour Guide has to travel to Orange Roots from the Resort to receive them.