Iew Sohra – Market Day at Cherrapunjee
The magic of Iew Sohra – market day at Sohra / Cherrapunjee is something to be experienced by the discerning tourist. It is not just a market place to buy and sell the produce / things alone, but it is a socializing event.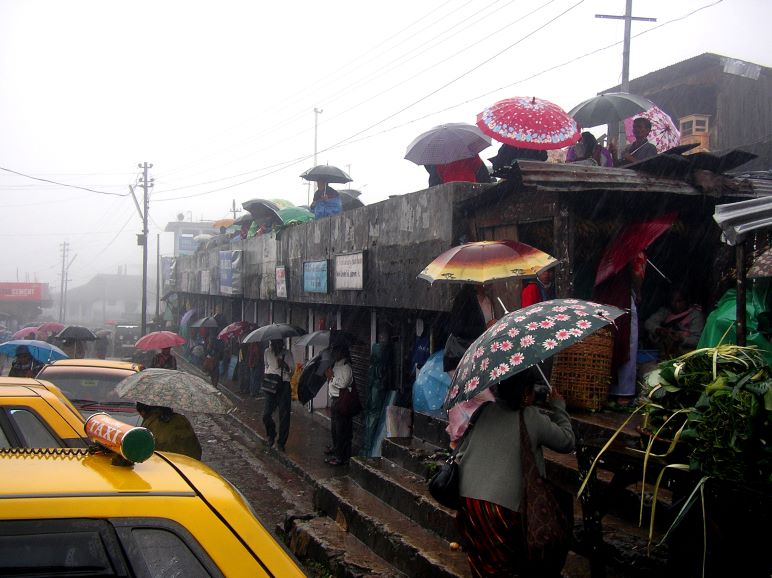 There are two types of markets – 'Iewbah' meaning Big Market and 'Iewrit' meaning small market.
Iewbah is held once in eight days. If this market day (Iewbah) falls on a Monday, the next 'Iewbah' will be on Tuesday. The advent of Christianity has brought some modifications to this rule, to enable people to devote Sunday to attend church services. This is done by preponing all Big Market days falling on Sunday to the preceding Saturday. However, these days you do see a few vendors turning up on Sunday – other than the ones who keep their shops open on all days of the week. The small market day i.e. 'Iewrit' is held on the 4th day from Iewbah.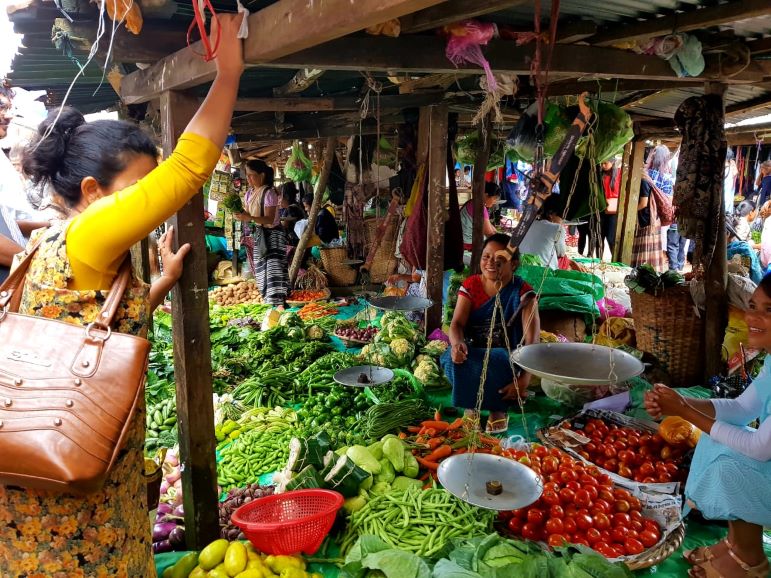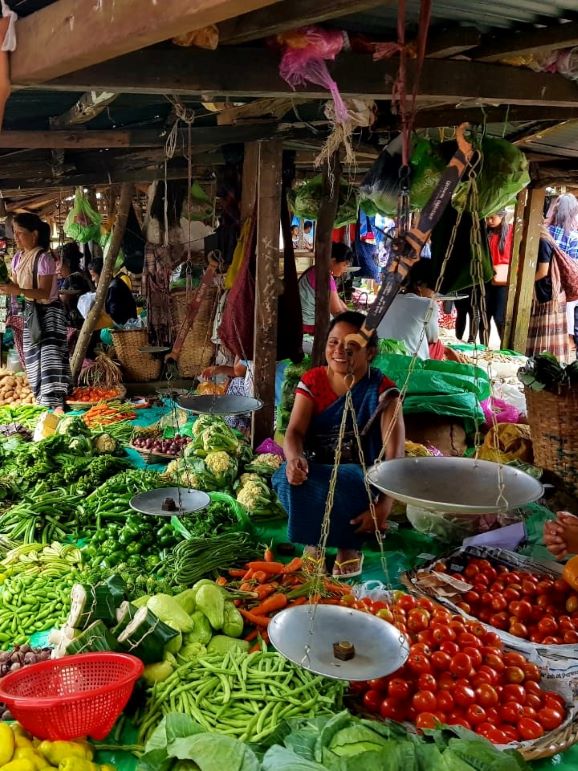 When you come to Cherrapunjee try to manage your stay to fall around one of these Big Market days. You can get the dates of market days at Sohra for the next few months or years by clicking on 'Market Days' or at the end of this article. The Market Days are highlighted in pink colour in the calendar.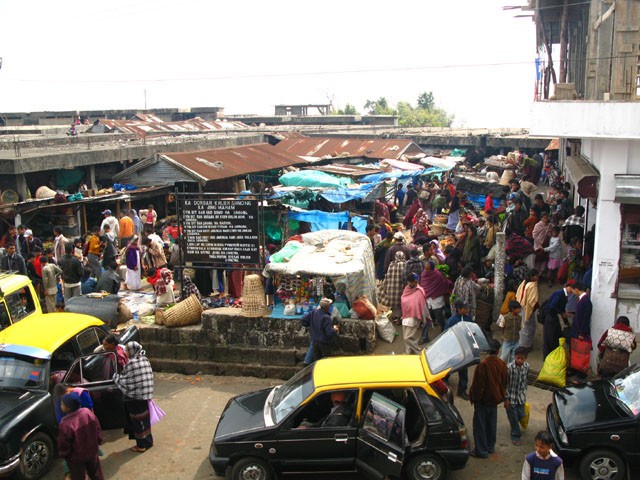 You can see Cherrapunjee come alive on Iewbah. The Bazaar buses disgorge loads of people from all the surrounding villages. (Bazaar Buses are slowly being replaced by modern buses.) People of Sohra especially those having regular shops and those who vend on market days are all primed for a busy action filled day. There is anticipation in the air about that day's turn out.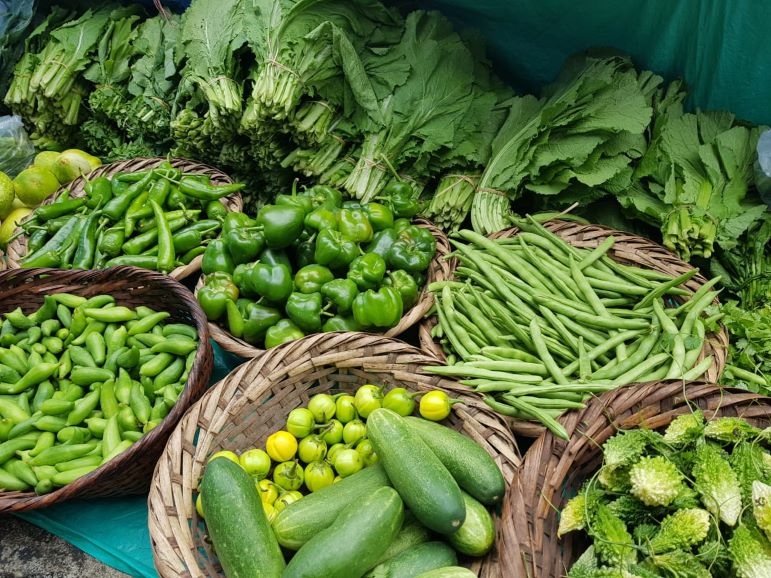 The Syiem of Sohra (King / Chieftain) has a toll tax collected from every vendor for the upkeep of the market place. About 10 years before, the 'Ambassador' Taxies ordinarily meant to accommodate 6 people including the driver had people packed like sardines up to 12 or even more.) Now Maruti Suzuki's Alto and 800 have taken over the place of Ambassador taxis. The white and green painted or the yellow and black painted smaller taxis still manage to accommodate up to 7 people. The 'Maruti Alto' Taxies are ordinarily meant to accommodate 4 people including the driver. The drivers have half their bum on the seat and manage to drive squeezing themselves between their door and their 'kwai' chewing fare. (Look up 'Legends of the Place' regarding the significant place 'kwai' has in Khasi hospitality – 'Kwai' is a combination of betel leaf, supari / areca nut / betel nut, lime and often times a pinch of tobacco.)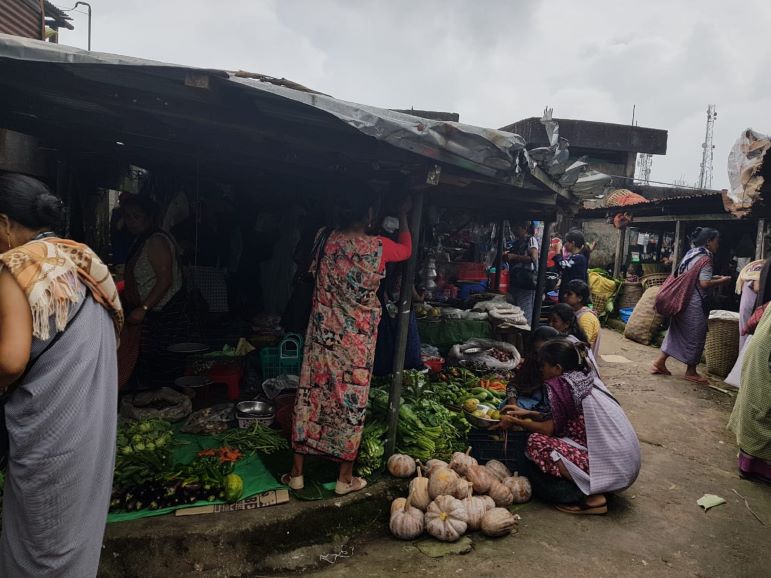 In earlier days, the boot of the Ambassador Taxi would usually hold one or two pigs packed with their heads into a conical bamboo basket, baskets of vegetables or other produce being taken to the market. Sometimes 2 or 3 persons manage to sit in the boot with the lid up. Now these small taxis do not offer that sight because they hardly have any boot space. Usually our music loving drivers have two large Speakers in the little space that is available as boot space.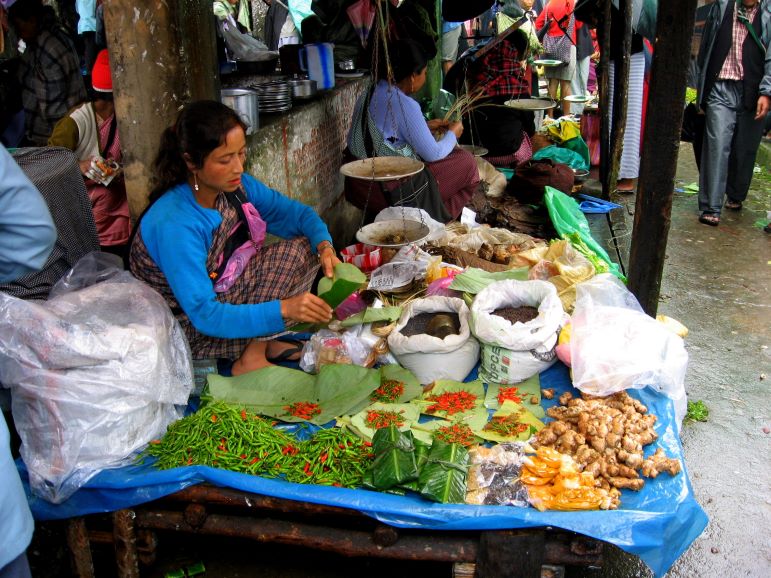 The village women wrapped up in checked woollen shawls (which tell tales of textile designs peculiar to Wales) whether it is cloudy and cold or sunny and warm, men with their smoke pipes taking a puff now and then ( again a legacy of the Welsh missionaries) some dressed up well and smartly turned up with lipsticks, face creams, high heels, designer jeans and leather jackets and some in suit that has not been washed or pressed for a long time, village men with unwashed turbans and pants with patch work, village women in sloppily clad jingersia (local version of apron) busy arranging and minding their wares or lost in their own world in their hurry for making their purchases, make up the market melee.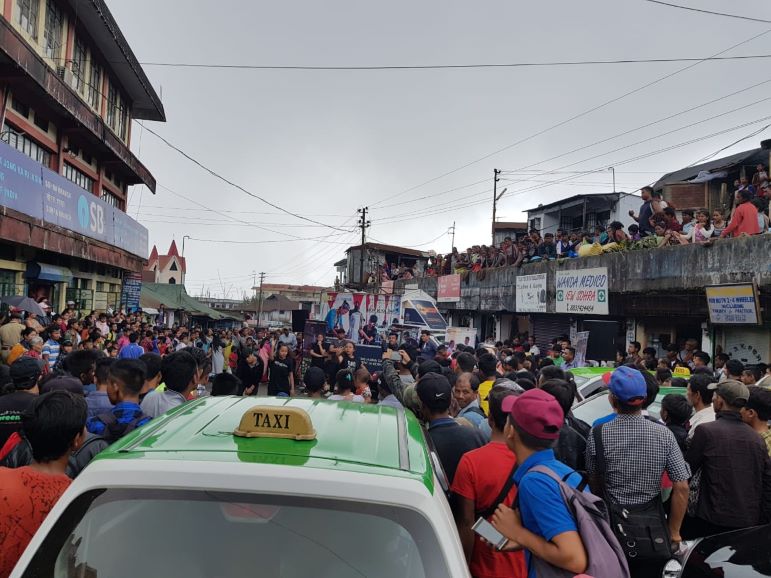 The market has different departments for meat – pork, beef, fish, dry fish, chicken (Occasionally the prohibited deer meat is also put up for sale.), vegetables, fruits, bamboo baskets, iron implements for agriculture, construction work and home uses, beaten rice, bakery products, spices, tobacco, textiles, ready made garments and furniture.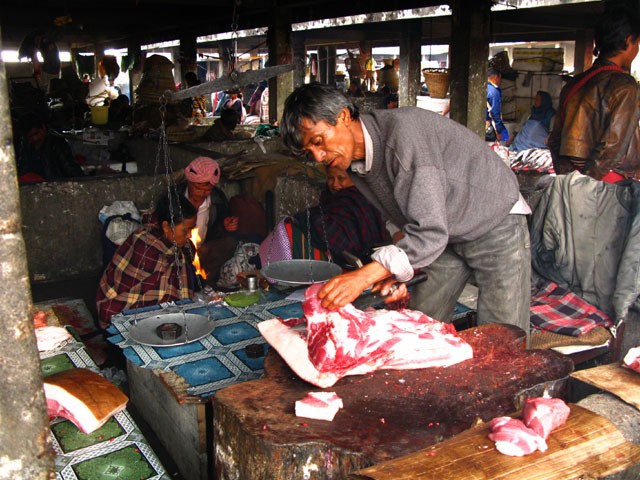 When the sky opens up in torrents, which often is the case during the monsoon months, the milling crowd from Sohra town and the villages all around can be seen scurrying around with the traditional rain shield 'kunup', all types of umbrellas of different colours and also wrapped up in colourful plastic sheets.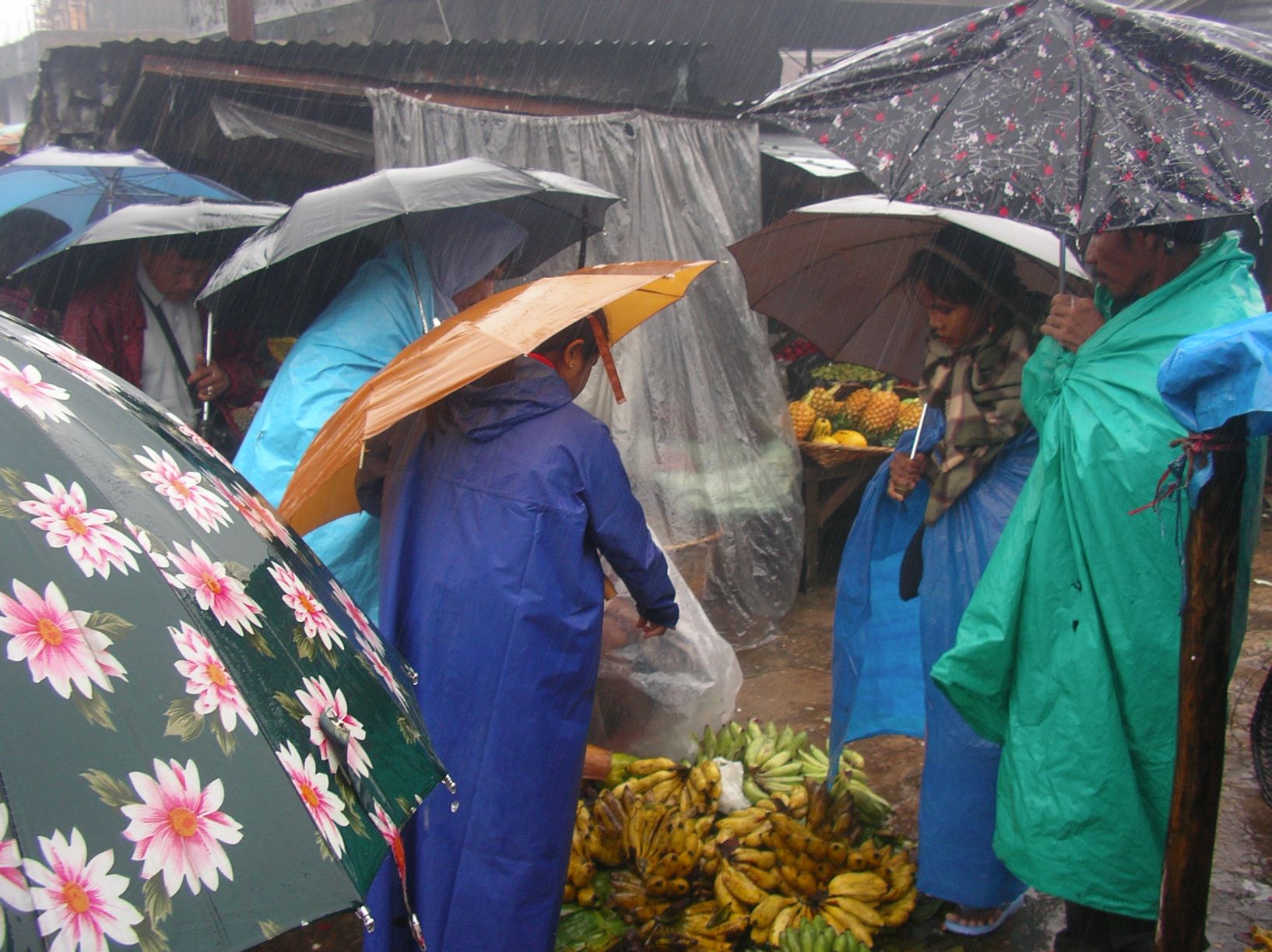 The traffic around the market on market-days often moves very slowly with people milling around competing for road space with the vehicles. On market days, these days there are a couple of people directing the traffic and helping to ease the traffic jams. Sometimes you can get caught up in the traffic for the better part of half an hour during the peak hours. Now they have placed restrictions on the movement of vehicles about the market area to reduce the vehicular congestion.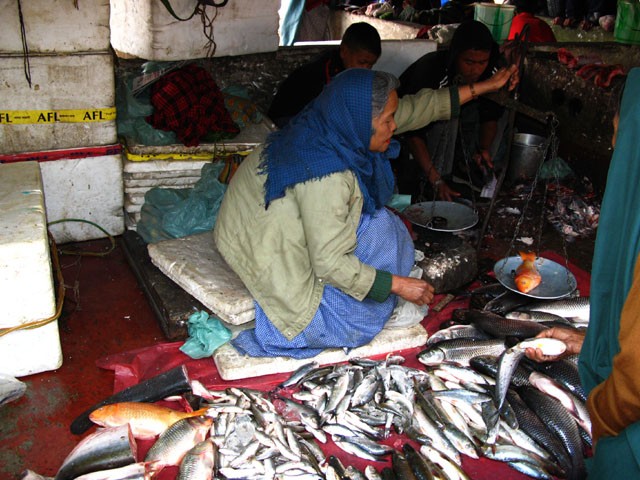 The few big shops around the marketplace have extra helpers on market days to help them to manage the buying crowd. Sohra Shopping Centre is one such 'departmental store' where one can buy almost everything – provisions, electricals, electronics, music systems, latest mobile phones, building tools, clothes, bags, suitcases, shoes, fancy articles, imitation jewellery, hardware, paints and welding rods. 'Paduh Rolin Tariang and his children Kordor and Mai Dohling' who own the place are really smart hard working business people. They are getting ready a Garment Showroom in the floor above. It appears that it will be a well-stocked Garment / Cloth shop. Bah Vicky who helps them sell Mobile Recharge Vouchers is a lively and interesting person.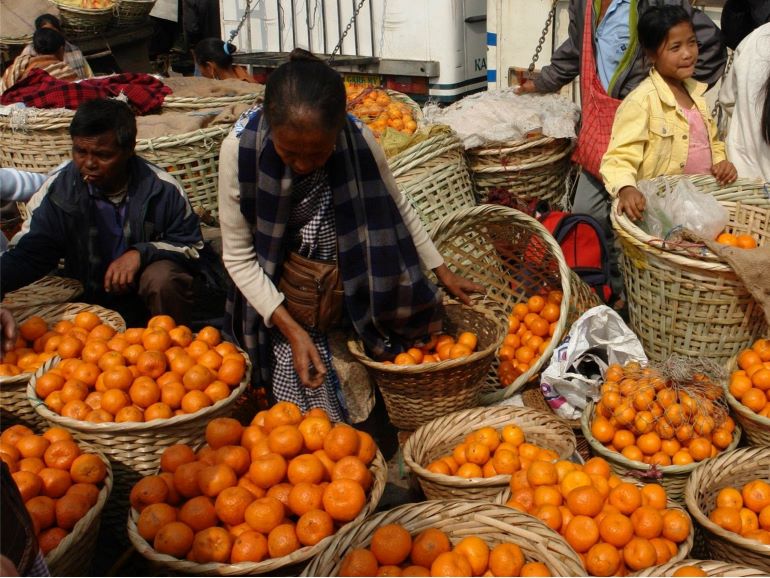 Bah Phos Tariang and his children Pherlinda Phanbuh and Niewkor Phanbuh of 'Tariang PCO' are busy selling Recharge Vouchers and new mobile connections, taking out photocopies of documents and creating and printing documents with their computers. Now, 'The Hotel Cresent' stands bright and tall in the middle of the market rush and tumble.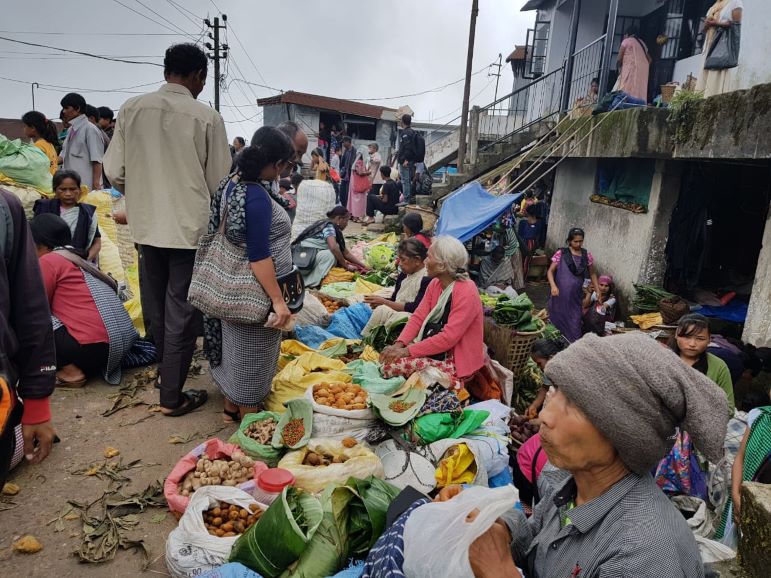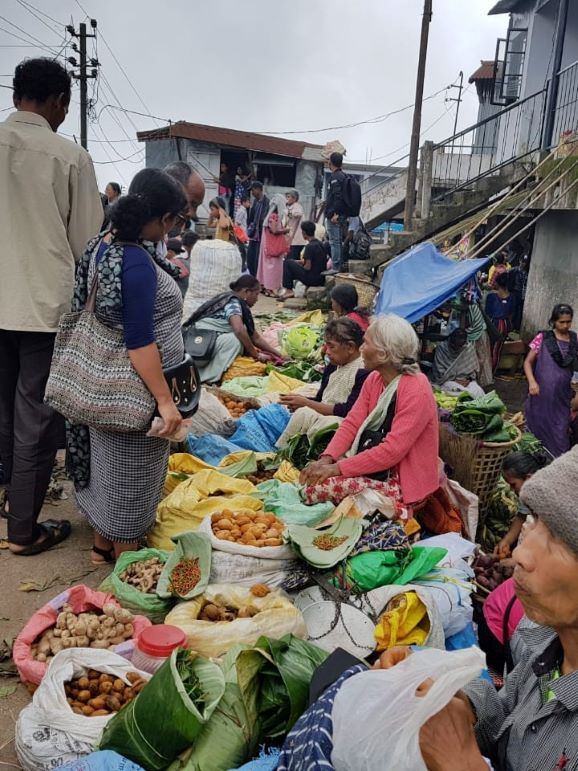 Market day in Sohra is the day when all the Government Offices and Extension Services have full attendance of their staff. People having work at these offices can often times meet the office people only on market days. The system of keeping the offices manned throughout the week by a couple of staff with nobody losing attendance is an art perfected in all these offices. The casualty, of course, is the involvement and commitment of these educated elite for the development of these backward places and their underprivileged brethren who are in need of help to better their lot. Most of them contribute to the earnings of the Sumo Shuttle Taxi operators by retracting to their hearths in Shillong on those days they grace their office with their presence. No one has any qualms about accepting the full pay packet at the end of the month. So one can understand the slow pace of development of this area despite government initiatives through its various arms.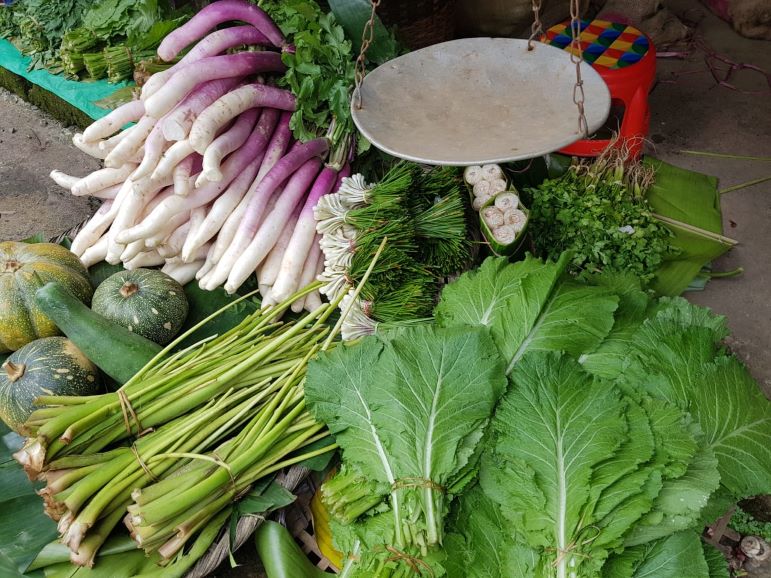 Market day also finds the Civil Hospital and the private clinics of medical practitioners filled with patients – pregnant women, mothers with babies, young and old and those who are cutting short their life span with their passionate liking for the local brew 'ka kiat' – hailing from all the surrounding villages. It is a busy day for everyone including the medical personnel, much in contrast to other weekdays.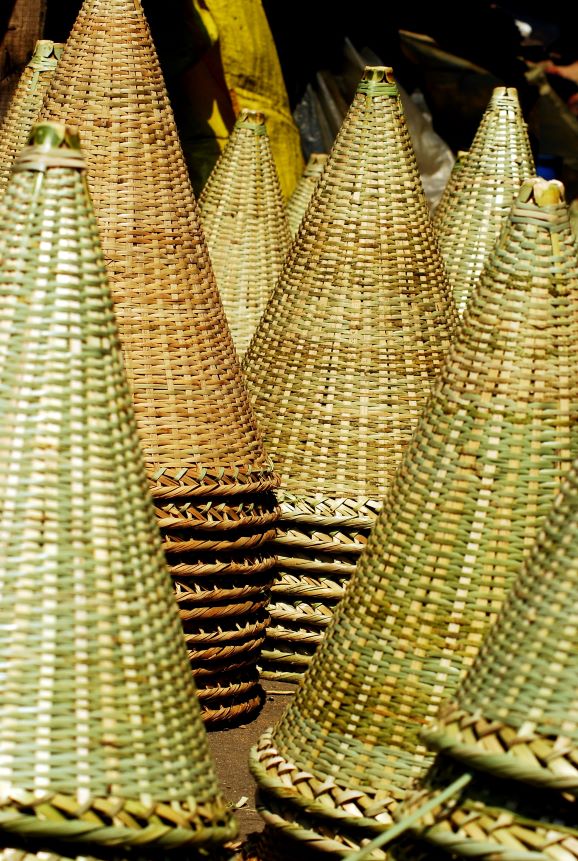 By evening kerosene lamp stands called 'dongmusa' – originally made of cut bamboo with kerosene in the cavity and cotton rags as wicks, but now metal replicas replacing some – are propped up around the market place for the late buyers and bargain seekers. I find even these are now being replaced by solar powered lamps. The day draws to a close around 7 p.m. for the buyers, vendors, taxi and bus drivers, helpers, porters and shopkeepers. The major buying crowd would have dissipated by 5 p.m. For many, a sip of the locally brewed rice beer or Indian made foreign liquor (rum / whiskies / vodka / gin) caps another hectic market day. These days 'Sunshine Wine Store' and 'Drink a Little Wine Store close to the Entrance Gate of Sohra are doing brisk business not only on market days but also on all days except Sunday, with the tourists also flocking in to have a holiday drink. You can get most of the reputed brands besides the more popular low-cost whiskies, rums, vodkas. If you are inclined to have a holiday drink, remember to buy on your way to the Resort.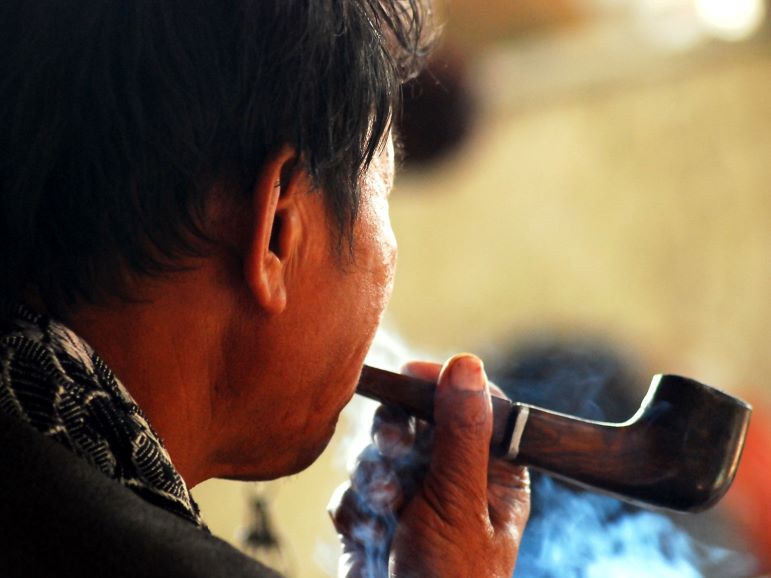 A new multi-storey market complex is under construction in the market place. The construction is underway since March 2020 when the markets were shut to prevent the spread of Coronavirus. The vegetable and meat shops were relocated temporarily in different locations around the market place and in some residential areas to avoid crowding. With the second wave of infection taking a higher toll of casualties, further restrictions have been put in place. Perhaps, it will take a few years more for the altered normalcy to be back in place. This may allow the construction work on the New Market Complex to progress smoothly without the market melee being an obstruction for the construction work.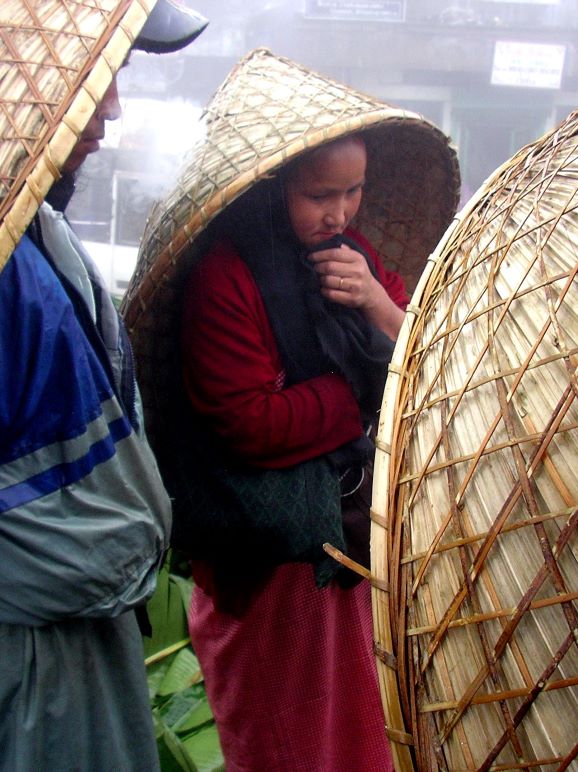 Teaser
Try to identify the persons whose names are mentioned in the above narrative, get their pictures on your mobile. Show us the pictures and correctly identify their names and get a surprise gift at the Resort. This offer is limited to those staying at Cherrapunjee Holiday Resort.