Living Root Bridges
The lower reaches of the southern slopes of Khasi and Jaintia hills are humid and warm and are streaked by many swift flowing rivers and mountain streams. A species of Indian Rubber tree – botanical name: Ficus elastica – thrives and flourishes alongside these streams and rivers.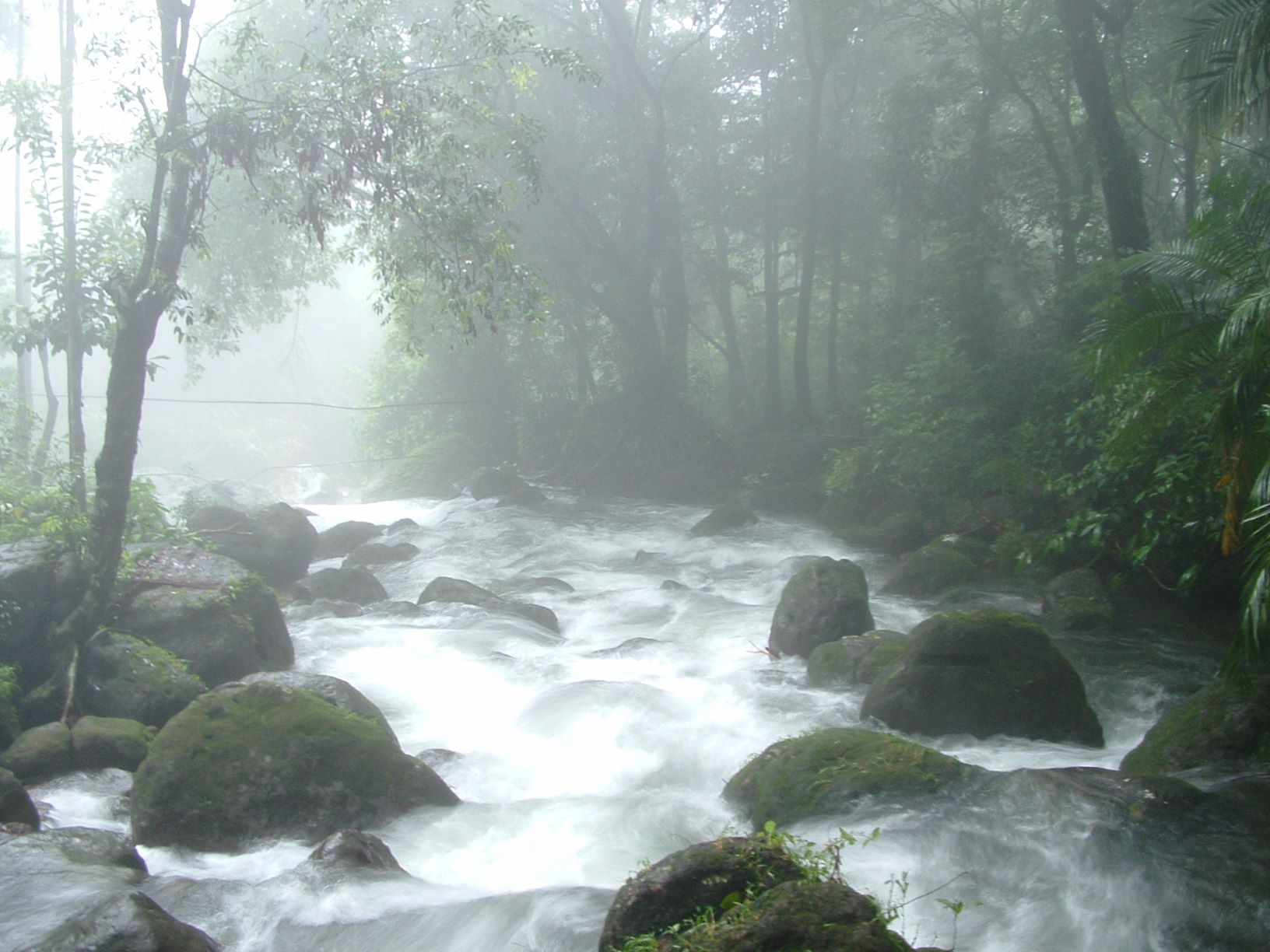 This tree can comfortably perch itself on huge boulders along side the riverbanks or in the middle of rivers and send its roots down to the riverbed. Thus, they have adapted themselves very well to high soil erosion caused by these fast flowing rivers and streams that come down about 3000 feet along precipitous slopes. These trees shoot out many secondary roots from their trunks.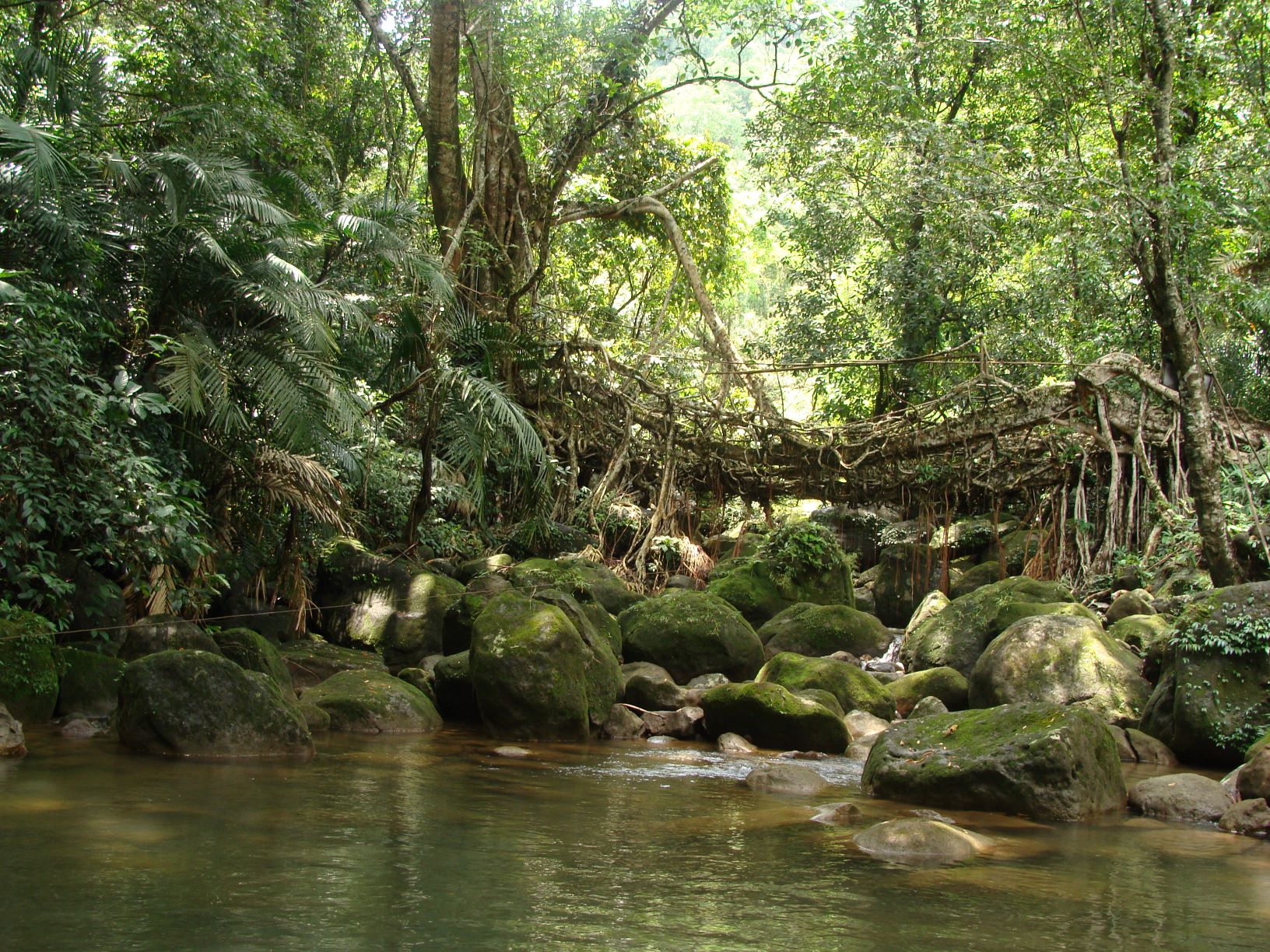 …. Continued after the Menu
These bridges usually have base spans numbering more than two. There are also two protective railing spans. Stones are used to fill any gaps in the base spans and over time they get embedded in the floor of the root bridge. Some of these bridges have roots brought down from the tree branches joining the middle of the bridge as support spans. Some of these root bridges are made by entwining the roots of two trees planted on opposite banks or in the middle of the river on huge boulders.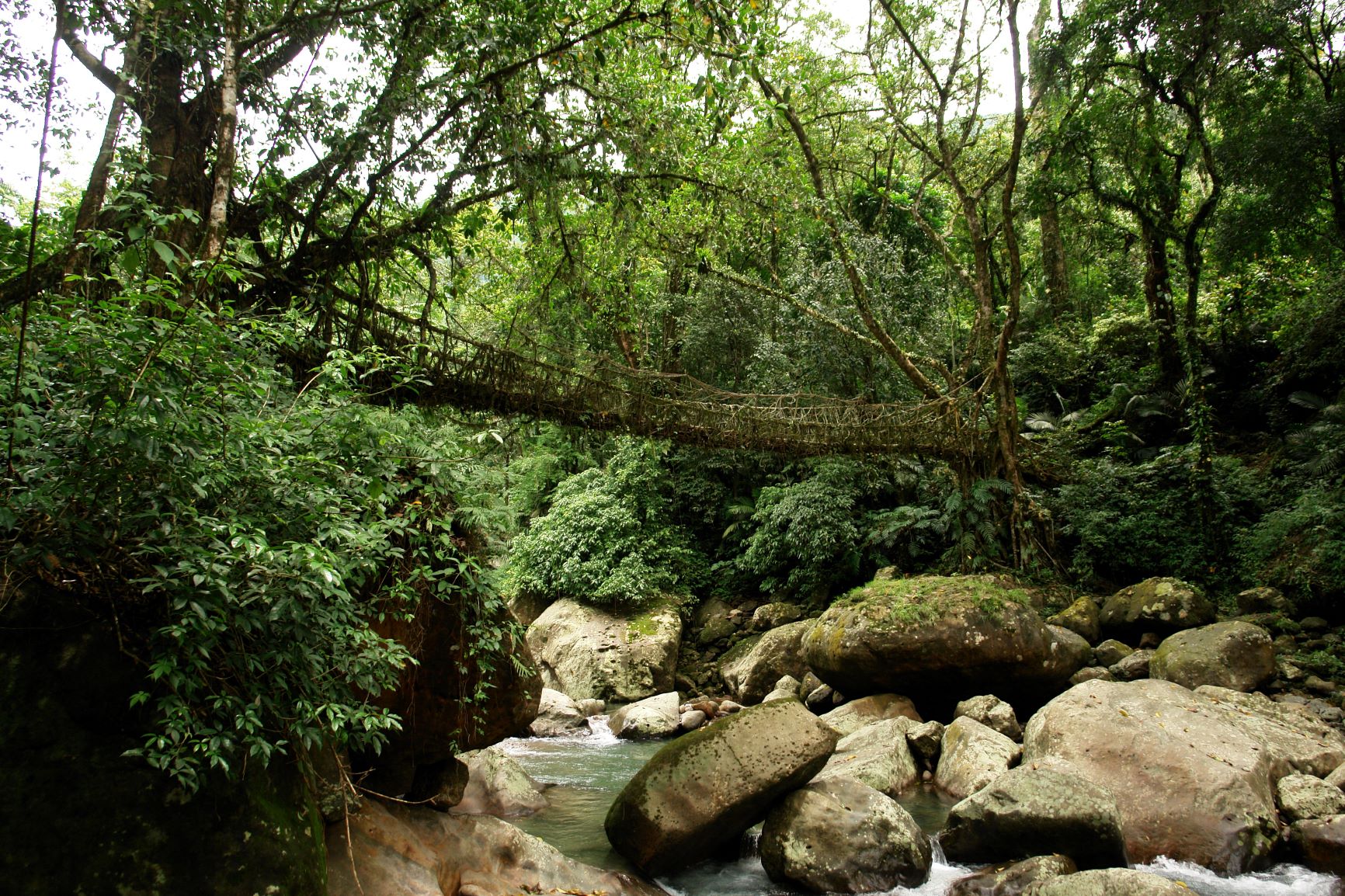 These root bridges are so strong that some of them can carry 50 or more people at a time. We have some of them in the vicinity of our Resort that are 53 feet, 56 feet, 70 feet and even over 100 feet long. One has two bridges stacked one over the other.
People of Nongriat - May 2008
We have fondly named it the 'Double Decker Root Bridge'. The people of Nongriat where the said bridge is located at the bottom of the valley are thrilled to see so many International and Domestic Tourists dropping in to see the Double Decker Root Bridge. They have been kind enough to accept the name. Double Decker Root Bridge is very unique.  It is the only one of its kind in the entire world. Nongriat has now firmly established itself in the World Tourism Map. Double Decker Root Bridge has opened up great Tourism potential for Nongriat and the Villages around.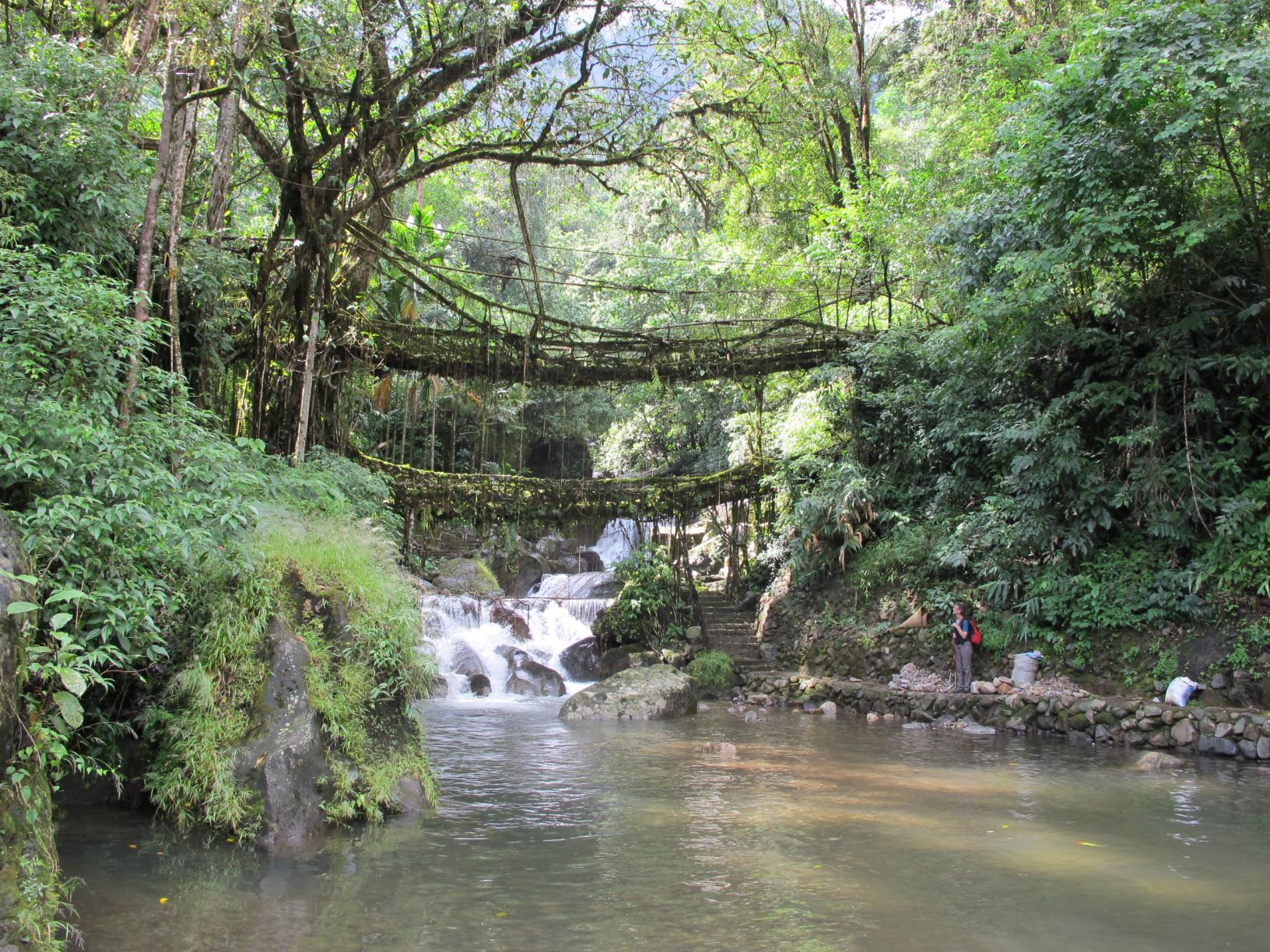 The roots used in one of these bridges are about 18 inches broad and about 6 inches thick. These bridges are being used daily even today by people living in these villages around Cherrapunjee. These bridges take 20 to 25 years to become fully functional. They keep growing in strength by the day. Perhaps their life span is 500 to 600 years after they are well formed. These bioengineering wonders are eloquent testimonies of man living in harmony with nature.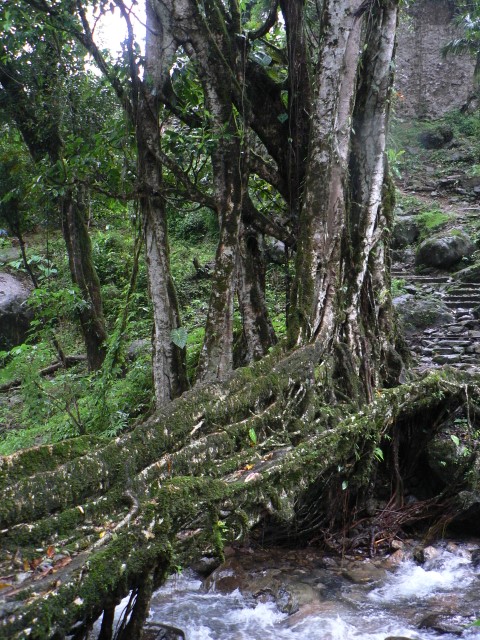 Cherrapunjee Holiday Resort has brought the focus on these Living Root Bridges, which are exclusive to Meghalaya and are not found anywhere else in the world.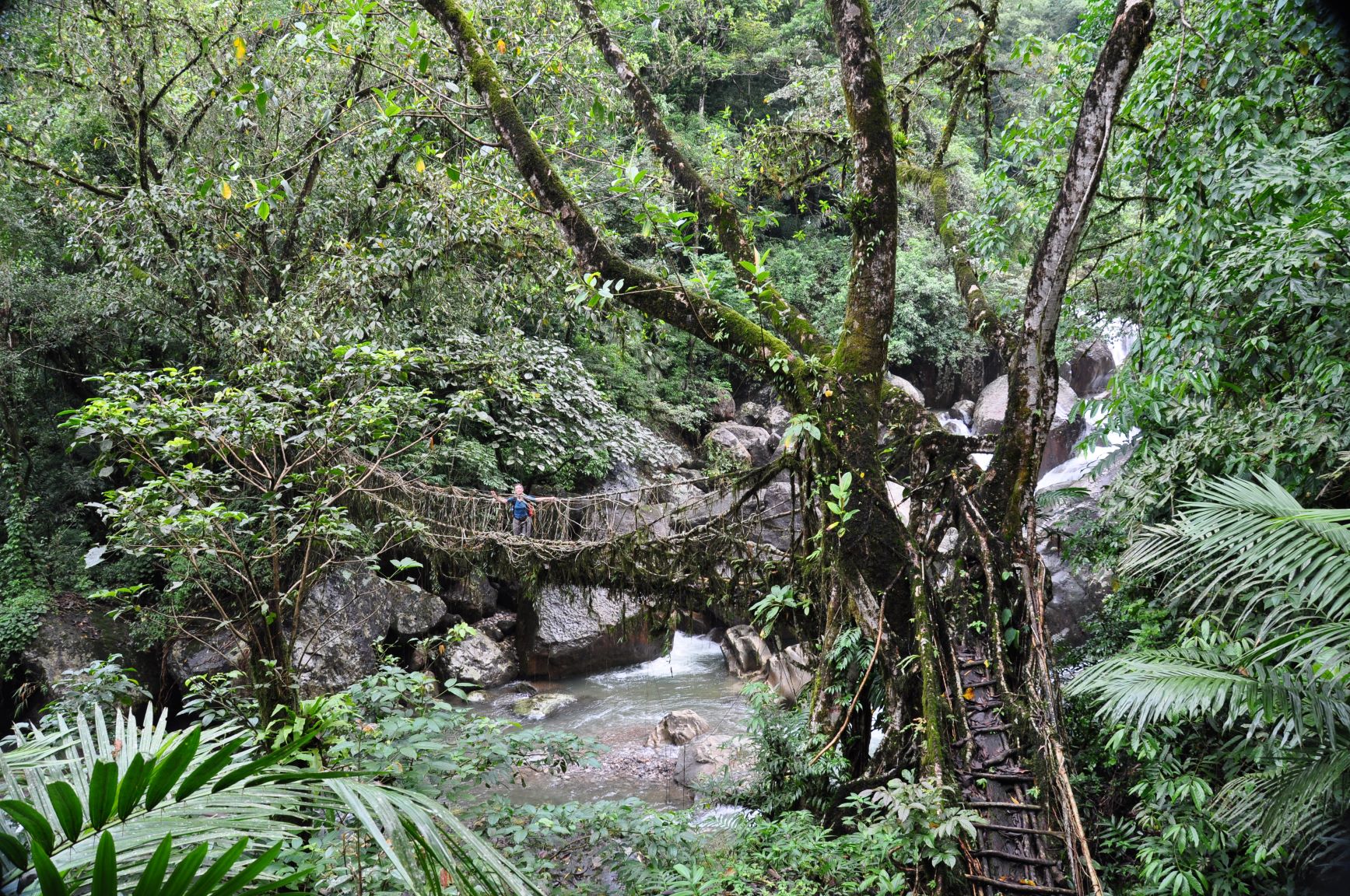 A Japanese T.V. Crew headed by Mr.Osamu Monden and assisted by Fujii Koji, Kenji Taniguchi, Shigeki Iizuka and Kyoko Miyazawa had made a detailed documentary over a period of two weeks (22nd June to 6th July, 2004) that was aired in Japan on 17th October 2004 by Ashahi TV.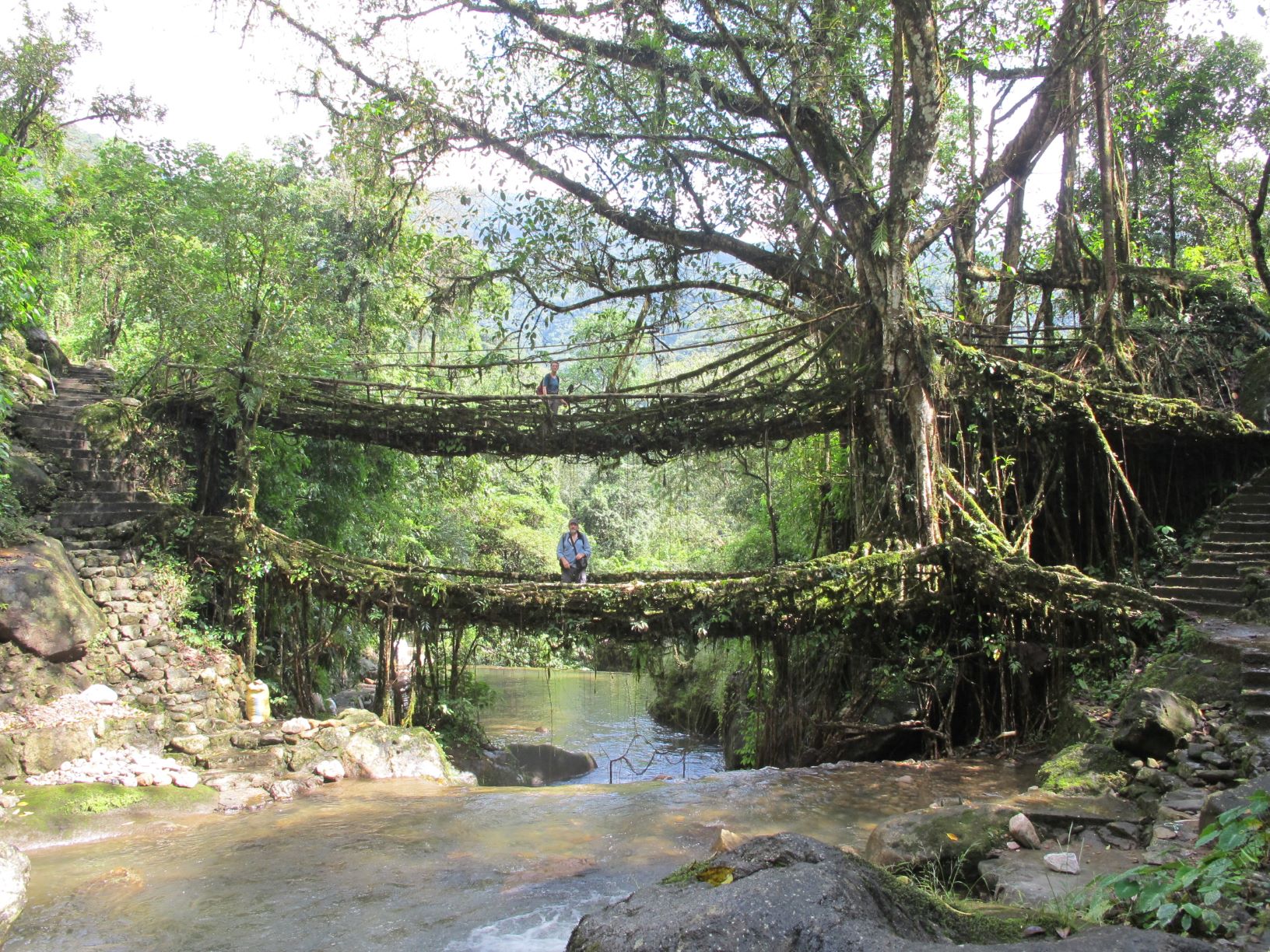 BBC Wales and BBC London have made documentaries on the Living Root Bridges. BBC London's documentary was telecast on BBC2 under the series "How the Earth Made Us" on 26th January 2010, the Republic Day of India. Our thanks to Director Ms.Annabel Gillings for her good direction of the documentary and to the Cameraman and Sound Recordist for making a great documentary on the Living Root Bridges and very specially to Professor Iain Stewart, Plymouth University for superbly presenting it.
BBC Wales has already telecast its documentary produced by Mr.Mark Flowers, Producer/Director and Ms. Renee Godfrey, Associate Director in "The Human Planet" series. They have been kind enough to send a copy of the documentaries. Please ask us to play the same for you to watch when you are here. The documentaries have been done very well.
In August 2011, Associate Director Ms.Allison Bean and Cameraman Mr.Richard Kirby stayed with us for a few days to cover the Living Root Bridges again for their new productions.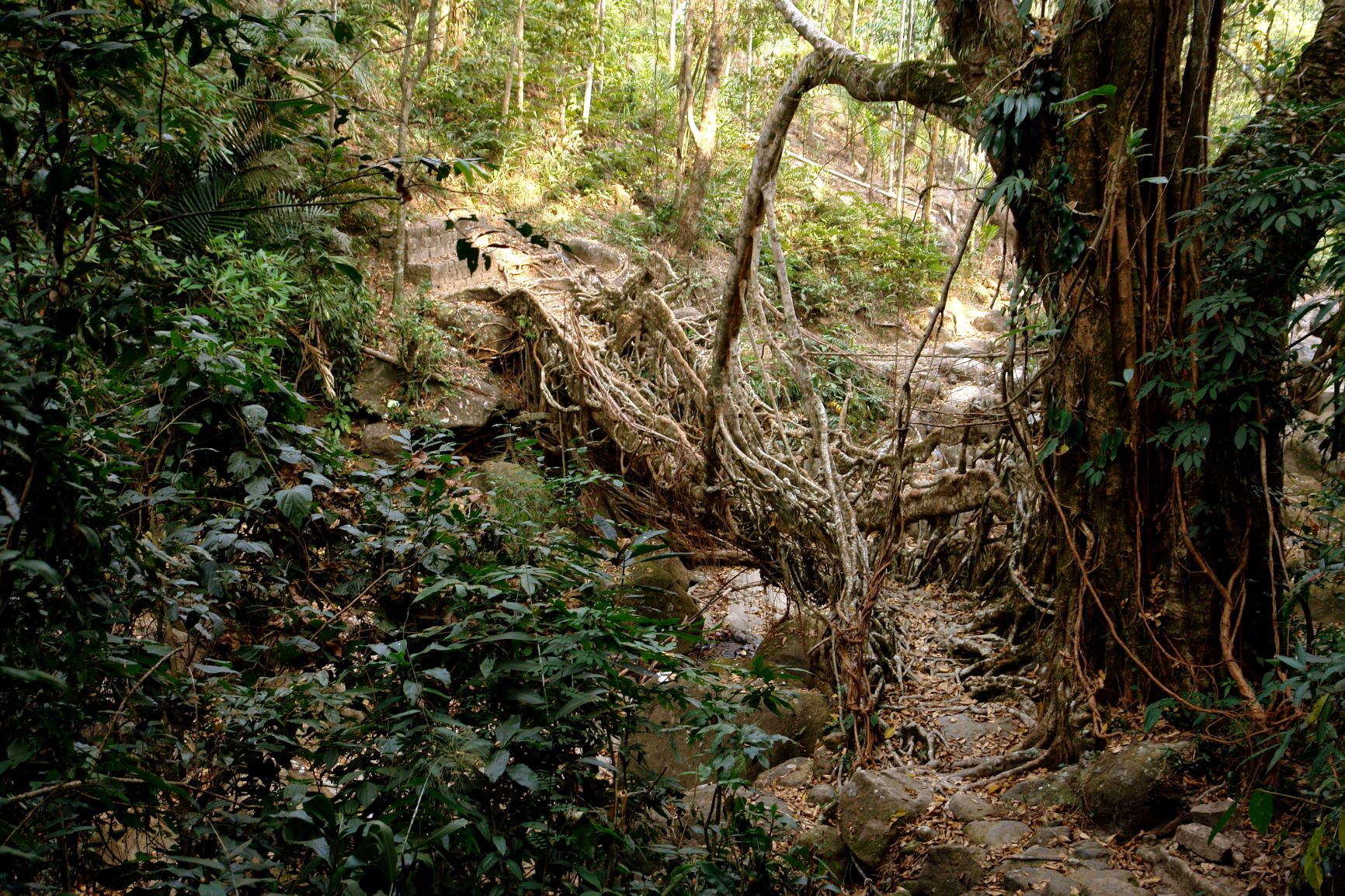 Double Decker Root Bridge Trek stands closed for Tourists on Sundays by the Village from January 2021. For those who want to trek to see the Living Root Bridge on Sundays, we have an enchanting Rainforest trek starting from the Resort to Living Root Bridge Umunoi and then on to Umkar Root Bridge, Siej. A round trip will take 3 hours and can be done by children aged 5 years and above. This trek is open on Sundays too. If you can not do the Double Decker Root Bridge trek during your trip because it falls on a Sunday, do come to the Resort. We will help you to get a guide or provide a map for this trek. This is the first Living Root Bridge that we started promoting from the year 2000. It is one of the best formed Living Root Bridges around and over 250 years old. The circumference of the trunk of this tree is over 13 feet. The Root spans of this bridge is over one and half feet thick. This is a very interesting trek and you will appreciate this trek very much.