The heavy rainfall received every year in a large area of Cherrapunjee and around brings huge amount of water pouring down the near vertical sides of the plateau, which rage through the valleys as swollen rivers and cause huge erosion. The roar of the river reaches to the top of the hills after very heavy downpour. In a normal year, we get more than 10 days in which rainfall received exceeds 300 mm in a 24 hour period. On some days the rainfall goes beyond 500 mm. We had received 1565 mm in 24 hour period in 1995.
The river beds in the valleys are thus subjected to great erosion. Huge boulders, some larger than 50 feet in height, litter the upper courses of the river. As one goes downstream, before the river exits to the plains, the boulders are reduced to small balls and sand. In the winter months from November to February, the rainfall is not there and the flow of water becomes much, much less.  Still there is a good amount of water all along the river course with some places having water many feet deep. Thus in winter negotiating the river bed on foot becomes possible and offers a great opportunity for hurdle course which is very adventureous, physically demanding and highly satisfying. It tones up the body and increases one's stamina. When doing for the first time, one can expect each and every bone and muscle in the body to pain for at least a few days. Thereafter, your body is toned up. Even if you do the same after a lapse of many months, you normally will not have the bone or muscle pain. River Canyoning is exhausting but very thrilling. It is sheer adventure.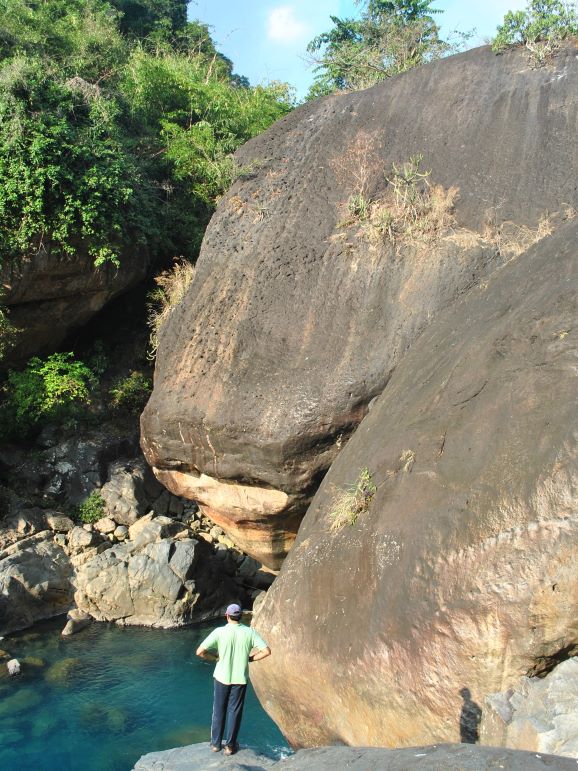 Swim-free Day-long River Canyoning
Duration: 8 hours involving 7 hours walking, down hill 2800 feet and up. Time spent traversing by river bed 2 to 3 hours. Approximate total distance 15 km. Best time: November to February. Not possible during monsoon time.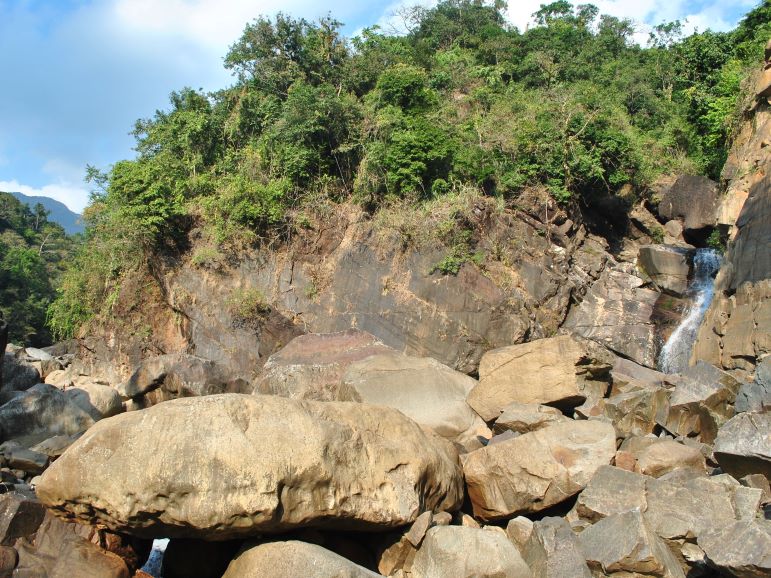 This trek goes down Laitkynsew hill to the river bed by a good jungle path used by villagers, past dilapidated houses of an abandoned gorge village overtaken by jungle growth and then through sparsely used jungle paths. The last part of the trek to the river is down steep banks of the river to a stream falling off as a waterfall. One has to scramble down the near vertical rocks of the waterfall to reach the river bed. After refreshing and perhaps a swim and good welcome food you have to move upstream; involving clambering up huge boulders, walking along narrow ledges over deep pools, jumping across rapids from one rock to other, squeezing through narrow spaces between large rocks. Good scope for angling en-route in deep pools of flowing water. There are many tempting natural swimming pools for the swimmers and yet this is a swim free canyoning route for non-swimmers. The return sees you across a steel rope drawn taut across the river over 45 feet above water level. Then starts the climb to Village Tyrna – a climb of about 1800 feet. It is drive of 5 km back to the Resort.
Challenging Wet River Canyoning
Duration: 10 to 12 hours with a river run of 5 to 6 hours. Involves walking down hill 2800 feet approx and up 3000 feet. Approximate total distance 20 km. Best time: November to February. Not possible during monsoon time.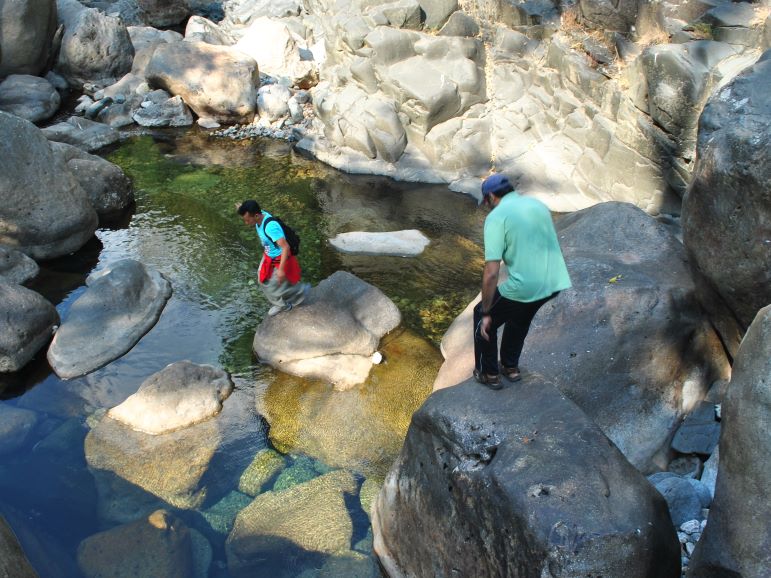 This trek takes off down hill from the Resort reaches abandoned old Nongkroh village and proceeds to the river. The trek past this part becomes wild and one has to make way through the overgrown jungle. This river canyoning goes downstream. In a place where there is a 'pinch' in the river canyon you have to do swimming or have to climb up the steep banks and find a way to the river again. Good spots for angling and camping out in this route. There are rapids in the river and places where you can cross the river hopping from rock to rock. Crossing is not very difficult but you get wet. There are places where you have to swim or have to detour through thick jungle with virtually no foot path after going up steep almost vertical rock banks. More care is needed to be exercised in this river canyoning. River Umiam joins the river downstream. On reaching the steel rope bridge across the river downstream, you start climbing back to the hill top. The path at the beginning of the bridge is very wild and then you reach stone steps leading to Nongwar village. The climb is steep. This River Canyoning is exhausting even for the hard trekkers and you must be prepared for a great day of outing. Start early in the morning so that you are able to return before it is very late in the night. You will be needing your torchlight for the return journey. Please take back up batteries and spare bulbs for the torchlight.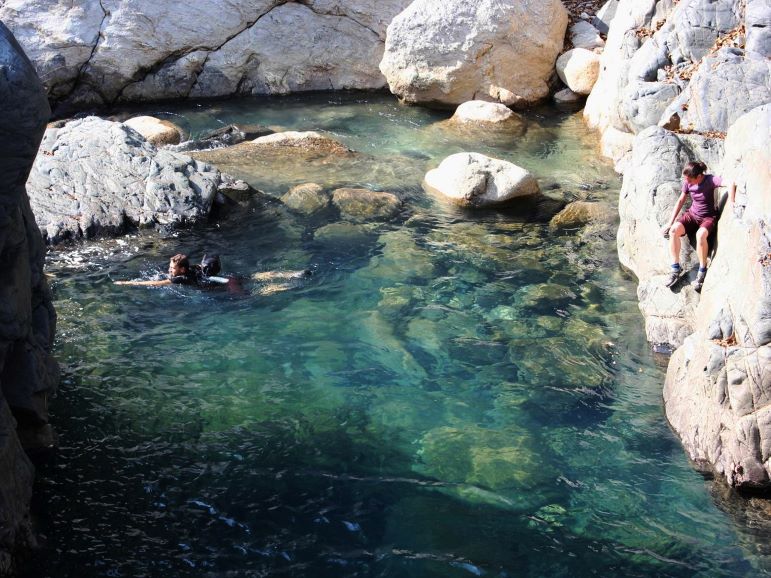 River Canyoning from Nongthymmai to Mynteng Steel Rope Bridge
Duration: 8-9 hours involving 8 hours walking, down hill 2000 feet and up. Time spent traversing by river bed 5 ½ to 6 ½ hours. Approximate total distance18 km. Best time: November to February. Not possible during monsoon time.
This is an interesting River Canyoning patch with more adventure packed into it. This River Canyoning goes downstream. If you are a good swimmer it will help. You need to do some tricky walking on basic impromptu bamboo bridge that require good balancing to cross fast flowing water flowing deep or swim.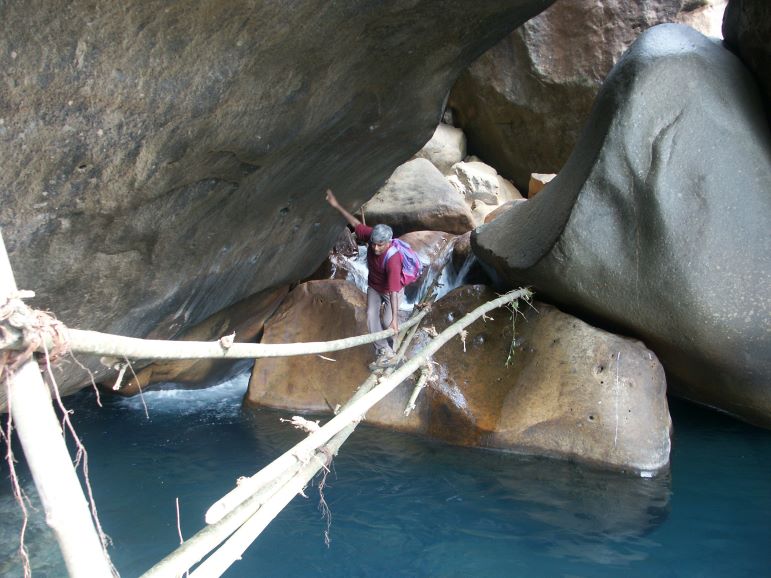 At the start you need to negotiate a deep water pool by walking along a slippery ledge just under a Living Root Bridge. Further down you come to the top of "Pung Adong" meaning Forbidden Pool. It is a beautiful pool nice to photograph. The pool is way down from the huge rocks you find yourselves standing on. You can find your way down to the pool by going between rocks that have formed a cave of sorts to the left. Down stream just before a confluence, the river goes down in cascades over perpendicular rocks scores of feet tall into a wide deep pool. It is really a place for absailing landing in water to swim across. This spot is really for high adventure. You can cut it out by scrambling up the steep slopes of the river bank wading through thick jungle circumventing the hill between the two rivers and scrambling down steep dropping hill side holding on to trees and roots to the other river. Clamber on to some huge rocks on the right side of the river to take in the amazing drop the first river takes to join the bigger river. It must be a intimidating scene while still awesome when the river is in full flow. Wonder how accessible the river will be at that time. Along the way jump past many pools of running water having a special shade of blue. The pools are so clear that you can see the bottom of the river bed distinctly.
Then comes a tricky crossing by an impromptu bamboo bridge. You jump across a rapid to reach a wet rock, to slide down to another wet rock below. If you slip you can be in water in a wink. Once you have balanced yourself in your position start on the bridge. Water from the rapid is flowing fast and deep under the twin bamboo placed precariously on two rocks about 15-20 feet apart. You have to balance yourself by pressing your finger against a huge boulder slanting overhead till you reach a place where you can safely grab the third bamboo kept low slung as a railing. It needs all your concentration and risk falling into the cold fast flowing water. If you are a swimmer you can be more confident.
Further downstream before you reach the steel rope bridge you have steep drops along deep pools that need to be handled deftly. If you are a swimmer you can cross the pool hurdles more easily. On reaching Mynteng Steel Rope Bridge give rest to your limbs before starting up the 1 hour and half climb to Tyrna village. The Resort is further one hour walk by road. You can arrange to be picked up. This is an adventurous River Canyoning which can be graded upwards with rock climbing and absailing thrown in. Good stretch for adventure team work.
You will be needing your torchlight for the return journey. Please take back up batteries and spare bulbs for the torchlight.