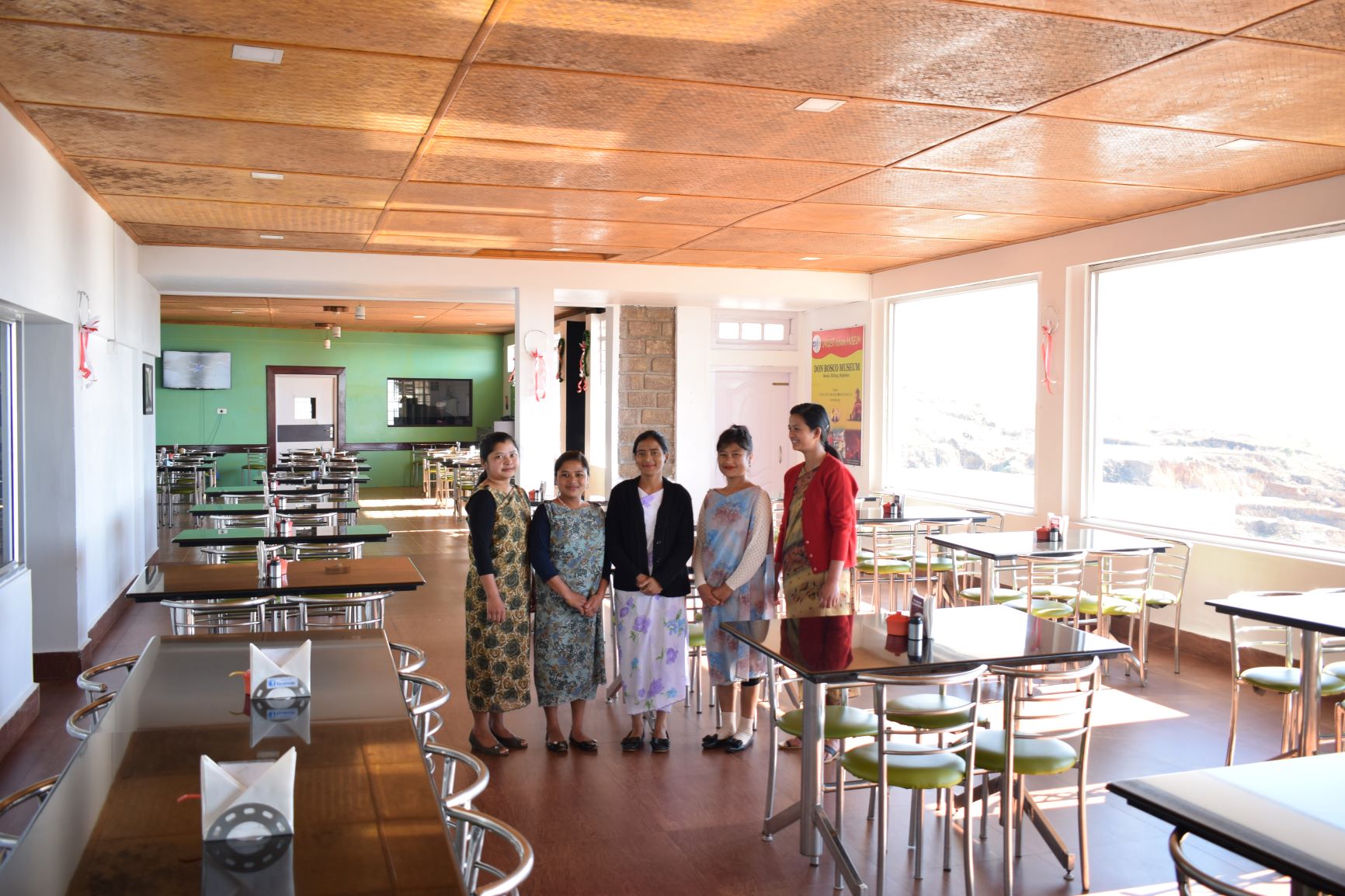 Cherrapunjee Holiday Resort had opened ORANGE Roots, the  first Pure Vegetarian Restaurant at Cherrapunjee on 4th March 2015 with a seating capacity for 50 persons serving Pure Vegetarian Combo Meals / Plate Meals / Thali besides Indian Breakfast including Dosa, Puri Subji, Chole Batura and Snacks.  ORANGE Roots has a large Car Parking Area and Clean Rest Room facilities just alongside the road. Tourists responded enthusiastically to the tasty and sumptuous food served hot with warmth in hygenic environs at very reasonable prices. 
Seeing the response, for quick availability of seating, we have since 23rd May 2016 enhanced the seating capacity to seat 150 people at a time.
We serve Jain Food too. For group sizes of 50 and above, on prior order and against payment online, we can serve a Full Jain Thali.
We at Orange Roots look forward to serve you fresh and delicious food with warmth. Come and experience the warm hospitality and efficient service provided by our energetic young Khasi ladies from Cherrapunjee who take great pride in promoting Tourism in this scenic place.
Due to popular demand we have extended our working hours and are open for Dinner up to 08:00 pm. The Restaurant is now open on all days of the week from 08:30 am to 08:00 pm and on Sundays from 09:30 am to 08:00 pm.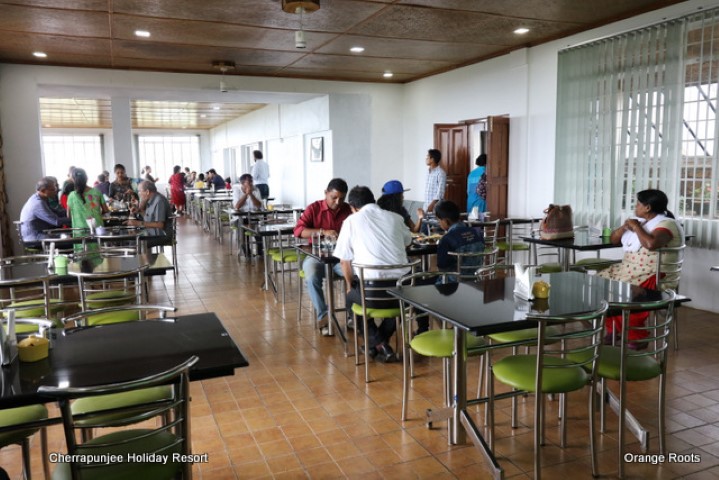 ORANGE Roots is a Public Private Partnership with Meghalaya Tourism and Cherrapunjee Holiday Resort.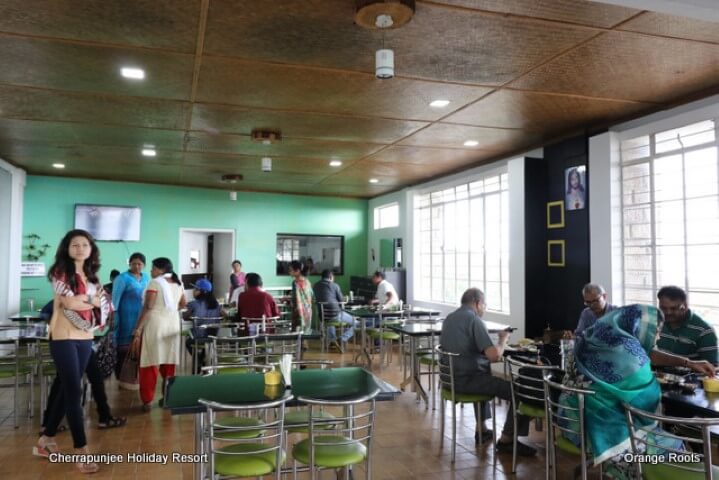 Delicious Food Served Hot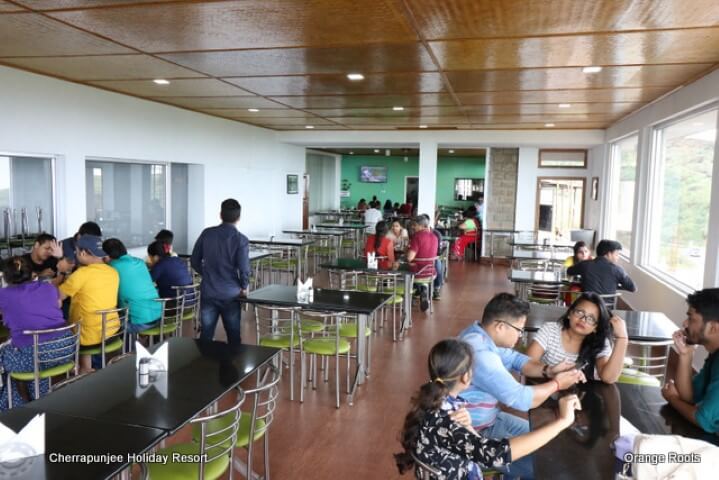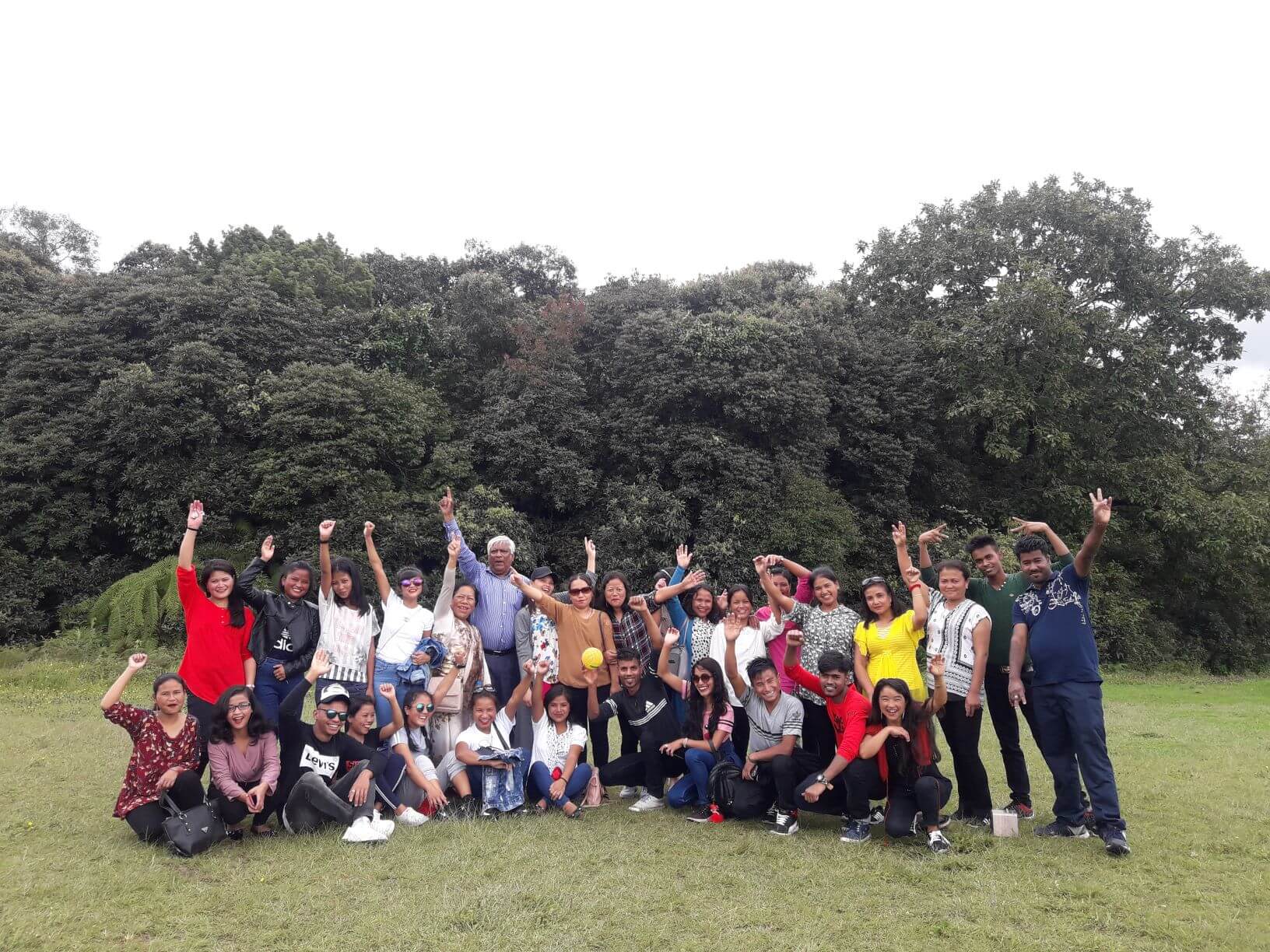 Orange Roots Staff Picnic – 07 August 2019 – Mawphlang Sacred Forest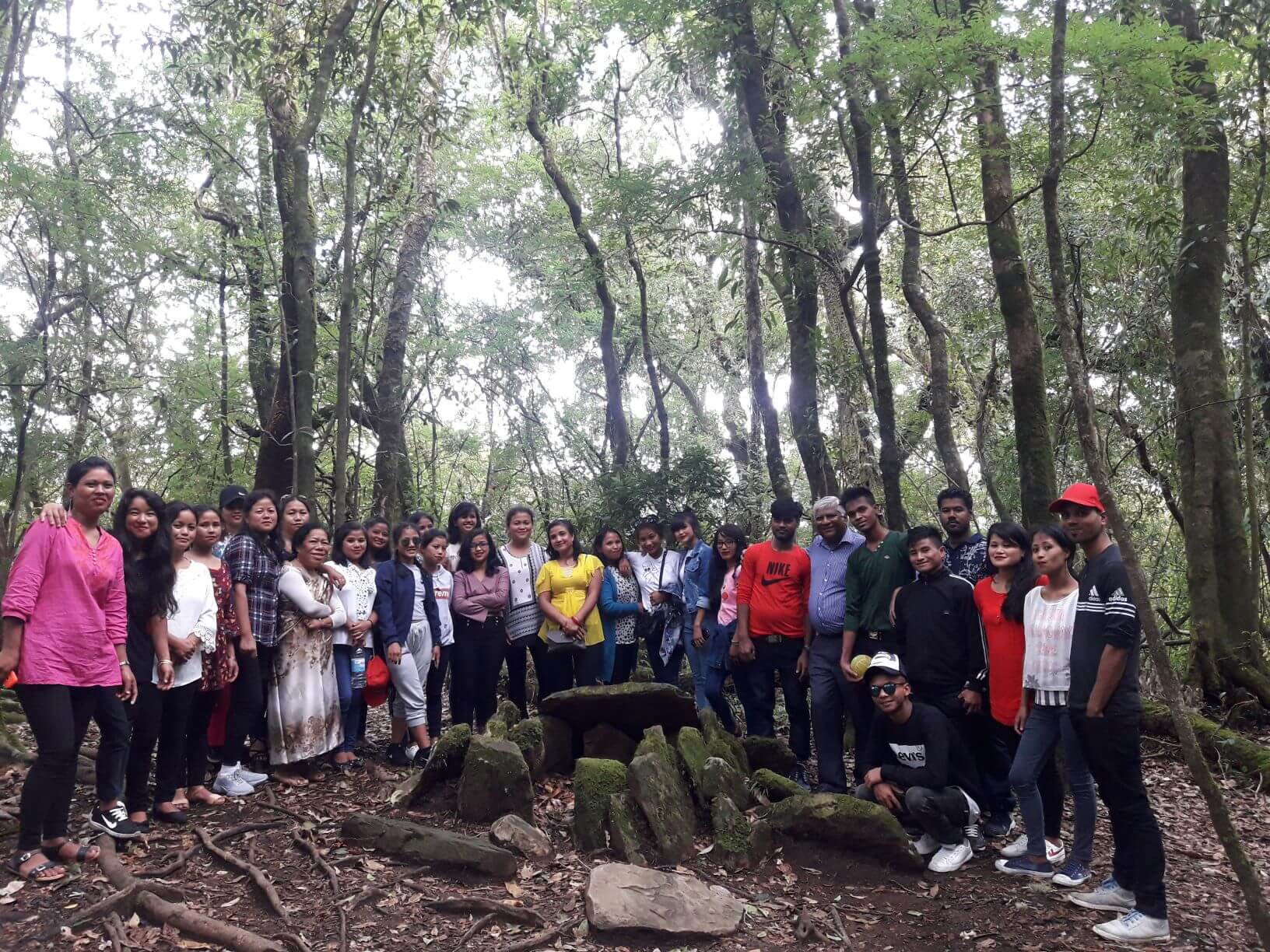 Orange Roots Staff Picnic – 07 August 2019 – Working Together to Serve Delicious Food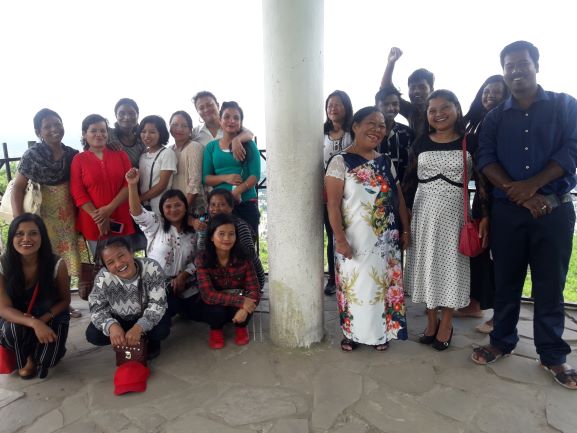 Staff Picnic – Shillong Peak – 20 August 2018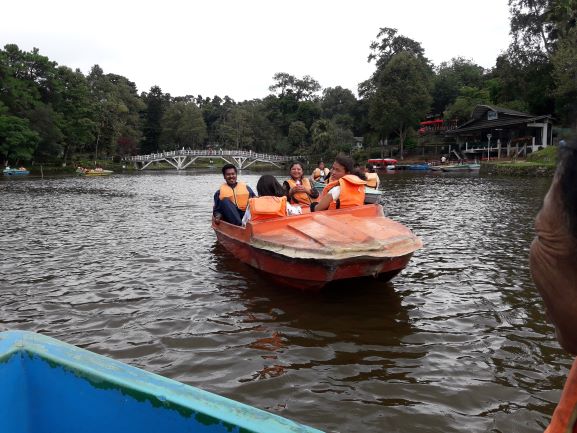 Staff Picnic – Ward's Lake – 20 August 2018
Itinerary for one day Sight Seeing Tour of Cherrapunjee View points
| Start Time Hours | Start From | Arrive Time Hours | Arrive At | Halt Time Min. |
| --- | --- | --- | --- | --- |
| 07:00 | Shillong | 08:00 | Dympep Valley view | 15 |
| 08:15 | Dympep Valley view | 08:45 | Orange Roots – Pure Vegetarian Restaurant– Refresh & Breakfast | 25 |
| 09:10 | Orange Roots | 09:15 | Arwah Lumshynna Cave & Valley View | 30 |
| 09:45 | Arwah Lumshynna Cave & Valley View | 09:55 | Rama Krishna Mission Museum | 15 |
| 10:10 | Rama Krishna Mission Museum | 10:25 | Nohkalikai Waterfalls | 20 |
| 10:45 | Nohkalikai Waterfalls | 11:15 | Eco-Park | 20 |
| 11:35 | Eco-Park | 11:50 | Mawsmai Cave | 20 |
| 12:10 | Mawsmai Cave | 12:25 | Nohsngithiang Waterfalls | 15 |
| 12:40 | Nohsngithiang Waterfalls | 12:55 | Thangkharang Park / Kynrem Falls | 25 |
| 13:20 | Thangkharang Park / Kynrem Falls | 13:30 | Khoh Ramhah / Pillar Rock | 10 |
| 13:40 | Khoh Ramhah / Pillar Rock | 14:10 | ORANGE Roots – Pure Veg Lunch | 30 |
| 14:40 | ORANGE Roots – Pure Veg Lunch | 14:55 | Dainthlen Waterfalls | 20 |
| 15:15 | Dainthlen Waterfalls | 17:00 | Shillong | |
Time saving suggestions:
| | Time saved |
| --- | --- |
| Eco-Park Viewpoint and Mawsmai Waterfalls Viewpoint are on the opposite sides of the same valley. Can save 35 to 40 minutes by skipping Eco-Park. | 40 min |
| Khoh Ramhah is a stand alone rock formation. One can get a good view of Bangladesh plains from Thangkharang Park too. Can save 30 minutes by skipping Khoh Ramhah Viewpoint. | 30 min |
| If you are not a great fan of Museums you can save 20 minutes by skipping Rama Krishna Mission Museum. | 20 min |
| Arwah and Mawsmai caves are great specimen of Limestone caves. Arwah Cave passages are large and easy to walk through. Mawsmai cave has impressive stalactite, stalagmite and flowstone formations. We recommend that you do not miss to see both of them. In case, time available on hand is a constraint, you can see one of them and keep the other for a future visit. | 30 min |
| Total Time Saved | 2 hours |