in Khasi language means 'Kyrkhu U Blei'- God Bless
Greeting equivalent to Namaste, Good Morning, etc.
Khublei! Welcome to Cherrapunjee Holiday Resort
Cherrapunjee Holiday Resort is a family run Nature Resort, promoted as a Family Holiday Destination. The focus is on the abundant scenic beauty all around the Resort, the benevolence of the Asian Summer Monsoon on Cherrapunjee, the enchanting and challenging Nature Treks in this amazing terrain, the Living Root Bridges including the one of its kind Double Decker Root Bridge, which are exclusive to Meghalaya and unique in the whole world, Baths in waterfalls, mountain streams and cool springs during the rainy season, Swims in Natural Swimming Pools that are rock pools in the river bed down in the valley, Campfires, Adventure Caving, River Canyoning and Camping Out in winter. It is our earnest desire to provide the right ambience for family holidays in the lap of nature.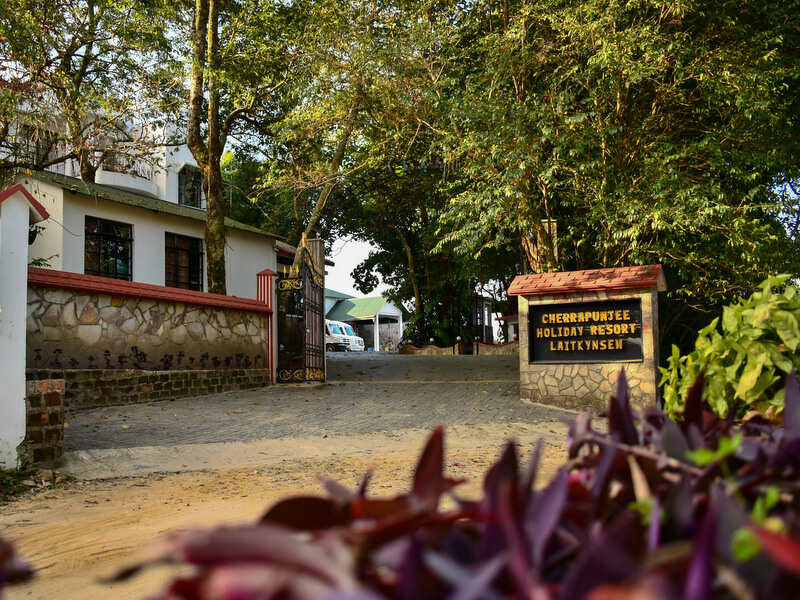 Experience the Freedom of Gigantic Scenic Open Spaces
Tourism means a lot to the people of Meghalaya, especially Sohra / Cherrapunjee. Many of our youth gainfully employ themselves in Tourism. We look forward to receive you here to help you to enjoy the freedom that only Nature can give after being confined to your homes for many months. We follow the recommended SOPs for your Safety and Good Health.
Rooms and Views
We have presently, twelve well-furnished rooms with vitrified tile flooring, with attached tiled toilets with 24 hours running hot and cold water. Electric supply situation is very good and reliable. We have standby Genset and Inverter power supply.
Our Service Staff are young Khasi men and women from the villages around us.  Our village youth, for whom music comes easy, enliven your evenings with well sung melodious Khasi songs and you are invited to dance to their beat. Feel and enjoy your holiday as you dance to their music.
Come and enjoy an exotic holiday in the lap of nature and feel the warmth of traditional Khasi hospitality. We are promoting our Resort as a Family Holiday Destination.
Standard Room
Package Price Per Night
₹6000
Deluxe Room
Package Price Per Night
₹6600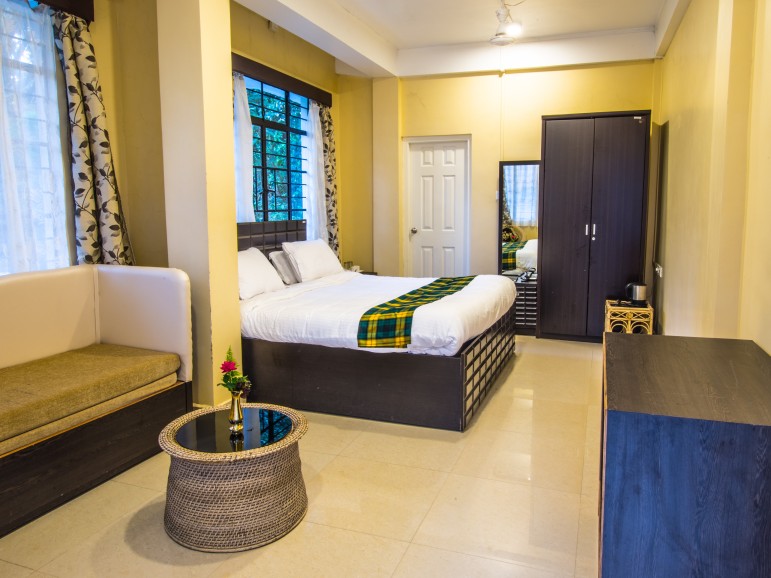 Executive Room
Package Price Per Night
₹7100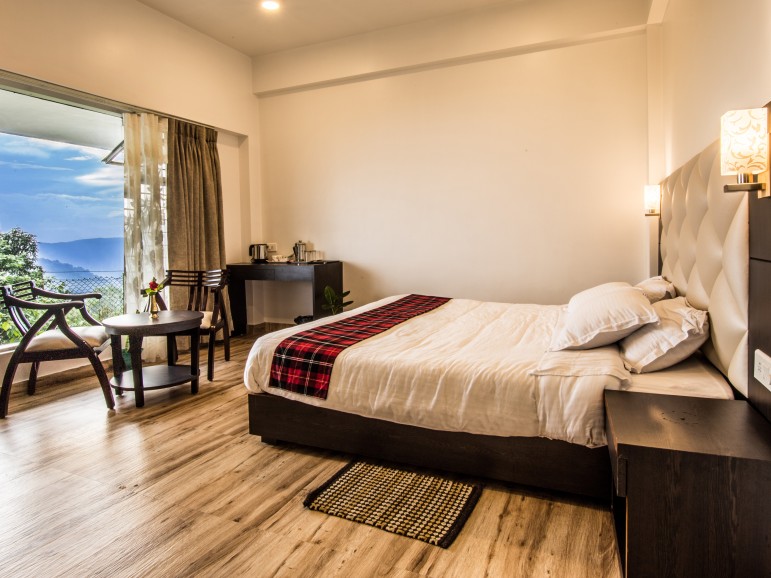 Premium Room AC
Package Price Per Night
₹8500
Complimentary Buffet Breakfast, Evening Tea & Snacks and Buffet Vegetarian Dinner for two people
Room Tariffs Inclusive of all applicable Taxes and shall be effective up to 30th September 2023.
Complimentary accommodation for children below 5 years
Extra Person charge including for child above 10 years, with bed Rs.2420/-
Extra Child charge – Child above 5 years up to 10 years with bed Rs.2020/-
Extra Child above 5 years up to 10 years without Bed Rs.900/-
FOOD & DRINK
In House Meal Service
At Cherrapunjee Holiday Resort we serve you complimentary Buffet Breakfast and Buffet Vegetarian Dinner. We have separate kitchens for cooking Vegetarian and Non-Vegetarian Food.
Breakfast is set by 07:30 am in the morning and Dinner is set after the Music Program by about 08:00 pm in the evening. On Sundays or when the Music Program does not happen the Dinner is laid out by 07:30 pm.
Buffet Breakfast
One North Indian Breakfast Dish – Puri Sabji / Plain Paratha / Stuffed Paratha / Chole Bhatura
Poha with Coconut Chutney / Vegetable Hakka Chow / Sewai Uppuma
One South Indian Breakfast Dish – Plain Dosa / Masala Dosa / Ghee Dosa / Butter Roast Dosa
Cornflakes – Plain and Chocos with Milk
Grilled Vegetable / Potato Sandwich
Eggs made to Order
Fresh Fruit Juice
Milk Tea / Milk Coffee / Hot Milk
Buffet Vegetarian Dinner
One Vegetarian Soup – Brocoli / Vegetable Sweet Corn / Vegetable Pasta Soup
Butter Naan / Tandoori Roti / Butter Tava Roti
Steamed White Rice
Jeera Rice / Green Peas Pulao / Vegetable Pulao / Paneer Pulao
Green Salad / Sprouts Salad
Dal Butter Fry / Chana / Arhar Dal Fry / Dal Tadka
One Paneer Dish
One Gravy Vegetable Dish
One Dry Vegetable Dish
French Fries / Potato Chips
Baingan in Besan / Papaya Rings
Rasam
Papad, Pickle,
Puthina / Dhania Chutney
One Dessert / Sweet Dish
TESTIMONIALS
Stories from our Guests
Never expected such great Services here in the wild. Co-operative & very amazing Staff. View is great too. Tanya, Delhi.
Read More

Never expected such great Services here in the wild. Co-operative & very amazing Staff. View is great too. Tanya, Delhi.
Read More

Cherrapunjee – The Rain Capital of the world
Cherrapunjee is a small town located on the southern edge of Khasi Hills, a dissected plateau at an altitude of about 4823 feet (1484 m) above mean sea level. The meteorological observatory is situated at 4267 feet (1313 m) above MSL. Cherrapunjee is locally and now officially known as 'SOHRA'. Khasi people of Mon-Khmer origin inhabit it. It is the headquarters of Sohra Civil Sub-Division and falls in East Khasi Hills District of the Indian State of Meghalaya. Meghalaya is one of the seven states of North East India with Assam to its North and sharing an international border with Bangladesh on its South. read more…
Rainfall Statistics of Cherrapunjee
Living Root Bridges of Meghalaya
Living Root Bridges are exclusive to Meghalaya in the whole world. The stem roots of a species of Indian Rubber Tree- botanical name Ficus Elastica- are trained over 20 to 25 years to form these living bridges to cross fast flowing rivers and streams. Bio-engineering wonders… Read More