Our Gratitude – A Humane Real Life Story
Circumstances in life had forced me to consider leaving a well paying job and venture into unknown territory. Our resources were very limited, but I was still determined to find our own way and in the process generate employment to others whom we can help even in the situation that we were in. We took up building a Resort in a village 15 km from Cherrapunjee town, the native place of my wife, from where the residents were often migrating to the City in search of work and employment. The work was undertaken with our small capital, bank loan and borrowings from relatives and friends. Two buses used to leave for Shillong from the village by 06:30 hours and return late in the evening. There used to be no transport available in between. Back in 1998, there was no telephone communication link at the village and the Telephone Exchange of Cherrapunjee was out of order for most of the time. Mobile services were unheard of here at that time.
My Rajdoot motorcycle that I had was a dependable companion in commuting between Laitkynsew and Cherrapunjee market (18km) and between Laitkynsew and Shillong (70 km) in rain and sunshine and whether it was day or night. During the period of construction, it helped to get the construction going by getting people and materials in on time. My Rajdoot Motorcycle again helped me in moving in the supplies for our Restaurant. I used to be a sight indeed with the way the bags were hanging off the bike and my neck. My bike is indeed a symbol of the years of challenge that we had weathered together and was indeed a companion in our hard times. It was getting old and worn, but the resort was taking time to generate since we could not take up adequate promotional efforts, which was needed since we were off the established Cherrapunjee circuit. Often, the bike was breaking down and I was not able to get it serviced properly.
One Mr.Dinesh Desai from Los Altos, USA came to stay with us in June 2001 to experience the wettest place on Planet Earth. He was a very affable elderly person and wanted to know the names of all the staff and was very considerate to all during his stay of one week with us. Unfortunately, it turned out to be a low rainfall year and during his period of stay there was not much heavy rain as is usually the case in June.
During his stay, Mr.Desai trekked down to Double Decker Root Bridge, Nongriat. Enroute, just nearing the bottom of the valley, he stepped on a jack fruit that had fallen on the steps, slipped, fell down and broke his wrist bone. The villagers of Nongthymmai that was closeby helped him to a house nearby and Bah Dominic from there helped to set right the fractured wrist bone. After resting for sometime, Mr.Desai made it back on foot to the Resort. He was cheerful and all smiles. When asked how his trekking trip was, he said that it was great and he had a good time. He added nonchalantly that he had a small fall and broke his bone. We fomented his injured arm and applied ice to keep the pain subdued.
The next day morning we took him by taxi to Shillong and my wife who was staying at Shillong helped him to meet the doctor and get his fractured hand plastered. He was advised rest for a night in the hospital. The next day, he returned to the Resort and spent the rest of his days as planned without any fuss. Before he left, he had some small gifts for each one of the staff members.
Immediately after his leaving, some of my acquaintances in Cherrapunjee Weather Observatory and some taxi drivers known to me had informed me that this gentleman was enquiring about how I managed to go about in the motorcycle on rainy days. They had informed him that rain or sun did not hamper my movements by my motorcycle. (Well I was left with no other choice and I had to keep the resort going.)
About a week after Mr.Dinesh Desai returned to Los Altos, USA, he sent me the following letter:
Dinesh Desai
Los Altos, CA 94024
USA
5 July 2001
Dear Denis and Carmela,
I arrived home a few days ago without much trouble. I went to my Orthopedist and he told me that the doctor in Shillong did a very good job fixing the fracture. I now just have to wear the cast for a couple of months; but all should end well.
I want to thank you both and Angela, Joel and Bennet for assisting me physically and psychologically during my stay there. It certainly was nice to have a home away from home.
While I was there, I was quite concerned with Denis's using a motorbike to travel in the fierce monsoon weather. Besides being inconvenient for hauling supplies from Cherrapunjee to the Resort, it really can be dangerous. Of course, I realize that your financial situation does not permit too many options.
I have enclosed a check for US $5,000. I want you to use the money to buy a good and reliable car. Be sure to get one with good luggage capacity. Any left over money should be set aside for car expenses; petrol and repairs will cost a lot more with a car compared to the bike. You may also use the left over funds to buy and maintain computers and related items as well as furnishing the Resort rooms. I do not want you to use the money to pay off debts.
The above sum is a gift from my wife Joy and I. We do not want you to repay the amount now or in the future. We have made this gift because we like to help honest and hard working people.
Yours Sincerely
Dinesh Desai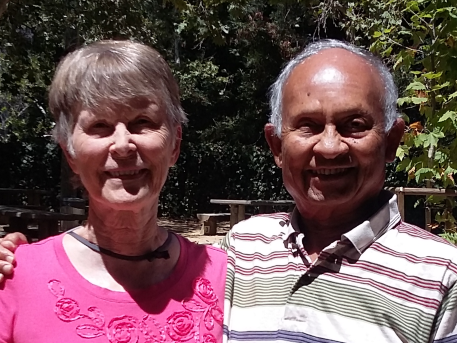 I purchased a second-hand Mahindra Jeep – Armada. The Car greatly helped me in my movements and in the movement of provisions to the Resort.  The Resort started attracting tourists and business started to pick up. The gift of the Car came at the right moment – just when my Rajdoot Motorcycle refused to move. The car made a remarkable change in our fortunes since we started the Resort. We were happy to see that our guests liked their stay at the Resort and visiting viewpoints in Cherrapunjee and the Living Root Bridges. Double Decker Root Bridge trek gradually grew in popularity amidst the tourists and the locals. Still, we were under the burden of overdue debts.
In this scenario, after about a year of having bought the car, I got a Demand Draft of Rs.1,15,000/- from Dr.Bipin Desai, Child Clinic, Surat, brother of Mr.Dinesh Desai, Los Altos, America, with a brief note that his brother wanted him to send the money to me and that his brother will advise me about it. When I called up Mr.Dinesh Desai, he told me that he somehow felt that I was still under the burden of debt and wanted to help me to repay the debts. He told me to use Rs.1,00,000/- to repay my creditors and to give the balance to our children – Rs.7000/- to Angela, Rs.5000/- to Joel and Rs.3000/- to Bennet for buying what they liked. My voice failed me hearing his overwhelming generosity. I thanked him from the bottom of my heart.
There was indeed a pestering creditor who was very much after us at that time. I paid him off in full by paying Rs.60000/-. I consulted Mr.Dinesh Desai and with his permission used the remaining Rs.40000/- plus another Rs.20000/- from my end to put up three roadside hoardings in Guwahati, Assam to promote the Resort. This helped to establish a regular flow of guests to the Resort. The money he had given to the children, we pooled together to buy a computer for their use. The children were in Class IX, VII and V at that time and went on to become Post-Graduates in Business Administration and Software Engineers.
We continue to remain in touch with Mr. & Mrs. Dinesh Desai. When the Coronavirus Pandemic started in March 2020 and America was reporting severe casualties, we enquired about their well-being. The kind-hearted person that he is, he enquired about how we are helping our staff during the Lock down. We explained to him how we planned to provide monthly support during the Lock down times so that they can meet their family's basic food needs. He wanted to provide further assistance to the Staff and arranged to send Rs.1,50,000/- for adding to the support money provided to the Staff. We remain eternally grateful to such kind-hearted souls who have deeply touched our lives and changed our fortunes.
To ensure that their help is not forgotten, we have named the new building added to the Resort Complex in 2016 housing the Premium Rooms and Recreation Hall as Dinesh & Joy Desai Annexe.