Botanical Studies and Study of Insects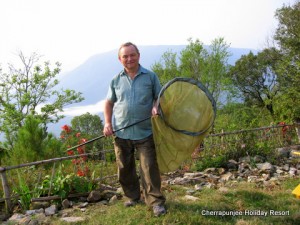 This area according to the famous Botanist Mr.Joseph Dalton Hooker has one of the richest bio-diversities. The thickly forested slopes provide a botanist with a wealth of botanical species. We have many orchids thriving in these tropical rain forests where humidity is 100% for almost 8 months in a year. Come and help us list all the available species of plants, trees and creepers.
We get to see many varieties of butterflies and moths in our place. Sometimes we can count over 40 varieties of moths in our portico itself. They all come flying at night to the verandah light from the thick forests on the slopes of our hill. Scientists from Czech Republic have stayed with us for long durations to study these insects and have found many interesting species during their research. French scientists had found a specie of frog that was reported last sighted in 1911 in our village.
If you are a researcher or student in these disciplines our place will provide you a wealth of information and research material. We shall endeavour to make your research and study a success.